Featured Gun Classifieds Searcy Firearms

Double Trigger, Quarter Rib w/one Fixed Rear Sight, White Front Sight. Gun has been checked, test fired, and certified for safety. No case or accessories included with firearm.
...Click for more info
Seller: Bass Pro Shops Fine Gun Room Denver
Area Code: 720
$18,999,99
Searcy Firearms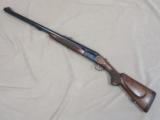 500 Sharps Express, Custom Double Rifle, built by Butch Searcy (B Searcy) of B. Searcy & Co. located in Boron California. The gun is fitted with 24 inch barrels, quarter rib with 2 blade exp
...Click for more info
Seller: Antique & Modern Firearms, Inc.
Area Code: 859
$5,495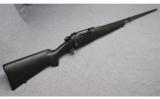 This is a Searcy custom pre-64 Model 70 Winchester action with a 25 inch sporting contour barrel that has a barrel band swivel stud. The action and bottom metal are in Very Good to Excellen
...Click for more info
Seller: Cabelas Reno
Area Code: 775
$2,699.99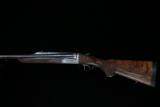 Seller: Westley Richards
Area Code: 406
$9,950
24" SxS dovetail-lump barrels with matted ramp front sight, smooth swamped rib, raised quarter rib and 1 solid standing express sight. Fully figured European walnut stock with Deeley-release spli
...Click for more info
Seller: Hallowell & Co.
Area Code: 406
$17,750.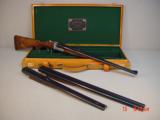 BUTCH SEARCY ULTIMATE GUN for the DARK CONTINENT! SEARCY DOUBLE BARREL SET ... 470 Nitro Express/ 375 FL Mag/12 gauge ... both rifle barrels are 24" mono-block with double underlugs, express rea
...Click for more info
Seller: James Wayne Firearms
Area Code: 361
$22,500.00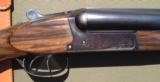 Early Searcy rifle built on BSS action modified via the addition of a doll's head third fastener. Barrels recently reregulated and blacked by Searcy w receipt, detailed elephant ga
...Click for more info
Seller: doublegunhq
Area Code: 325
$7,500.00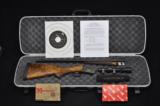 New Searcy Classic Double Rifle in .450/400 3 inch Nitro Express. Beautiful custom rifle with 26 inch barrels that are regulated to 100 yards with the ammunition provided. Box of 20 Hornady factory am
...Click for more info
Seller: warnerguns
Area Code: 901
14,500.00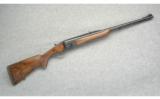 Seller: Cabelas Buda
Area Code: 512
$8,499.99
Searcy Vektor .458 Lott by Butch Searcy of Boron, California built on a South African Vektor true magnum length double square bridge Mauser action. 23 1/2" Krieger barrel with NECG banded ramp fr
...Click for more info
Seller: Dismal River Armory
Area Code: 308
$10,500
Searcy and Co. 470 NE double rifle, ejectors, double triggers, 24" barrels, LOP 15" from front trigger. 10 lb, 9 oz. Deeley-release, splinter forend, steel capped pistol grip, be
...Click for more info
Seller: dsurf
Area Code: 336
$12999