Sorry! You're too late.
The " Valmet 76 .223 Rem (R18326) GI# 100639041 has been sold.
Click
here
to see what else is available by Collectors Firearms.
View other listings in this category....
Featured Gun Classifieds Valmet Rifles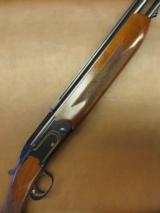 12 ga. 2 3/4 inch over .308 Winchester has 23 1/2 inch vent rib barrels with flip up rear sight on rib grooved for scope mounting. Single selective trigger and cocking indicators. Checkered walnut wit
...Click for more info
Seller: Bromley's Gun Shop
Area Code: 641
$1299.00
Valmet Rifles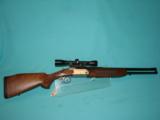 Valmet 412 with 30-06 O/U barrels. stainless reciever,blued barrels. Not numbers matching, Bushnell sportview scope. Rifle is used in good condition,reciever has some wear and barrels have some freckl
...Click for more info
Seller: Legendary Guns
Area Code: 602
$999.00
#286XXX THE 12 GAUGE OVER UNDER IS 30'VENT RIB IC AND MOD 3" CHAMBERS WITH EJECTORS THE 9.3X74 OVER UNDER BARRELS ARE 23 1/2" WITH A 1/4 RIB SIGHT WITH EJECTORS SINGLE SELECT TRIGGER FIE
...Click for more info
Seller: Steve Barnett Fine Guns
Area Code: 662
$2,750.00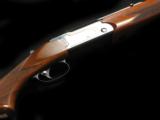 Gold line Finnish 412 receiver/forend set that is in new condition, has been fired but cosmetically and mechanically like new. Single selective trigger version, optional double triggers available.. Wi
...Click for more info
Seller: doublegunhq
Area Code: 325
$1,950.00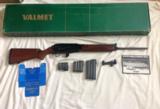 Excellent condition Semi-Auto .308 Hunting rifle on a AK style action. Rare gun, importation ceased in 1989. Call or E-mail with any questions.
...Click for more info
Seller: Finn
Area Code: 646
$1850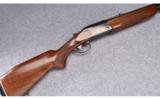 Seller: Cabelas Wheeling
Area Code: 304
Was $1,699.99 Now $1,599.88

VALMET 412 O/U RIFLE and shot gun combo. 1) 30-06 ... 23 1/2" Barrels ... LOP 14 1/8" ... Weight 10# 14 oz ... Single selective trigger ... solid rib ... blade front sight ... f
...Click for more info
Seller: James Wayne Firearms
Area Code: 361
$1,850.00

VALMET 412 O/U COMBINATION GUN. 9.3X74R/12 Ga. 3". Two barrel set Single selective trigger ... LOP 14 1/4" 1) 9.3X74R ... 23 1/2" solid rib Barrels ... blade fron
...Click for more info
Seller: James Wayne Firearms
Area Code: 361
$2,050.00
For those who appreciate genuine Finland made classic OVER-UNDER double rifles – here is a hunting package that will take anything on the continent. The double 30-06 is the alway
...Click for more info
Seller: winchesterjoe
Area Code: 813
$3500
BEAUTIFUL LOOKS NEW ..BUT IM CALING IT USED..THIS RIFLE IS TRULY VAULT ROYALTY..VALMET 30-06 HUNTER ..THESE RIFLES ARE RARE AS HORSE FEATHERS.. comes with 2- /MAGAZINEs and scope mount and top of the
...Click for more info
Seller: RATEDX
Area Code: 715
$4,000.00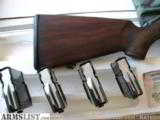 NEW IN BOX W/ EXTRA MAGS ALL NEW ..BEAUTIFUL FURNITURE AND WORKMANSHIP ..HAD IT MANY YEARS AND TIME TO SELL THESE RIFLES NEW IN THE BOX ARE AS RARE AS HORSE FEATHERS..GREAT INVESTMENT,,. F
...Click for more info
Seller: RATEDX
Area Code: 715
$6,000.00