Featured Gun Classifieds Weatherby Rifles - Rimfire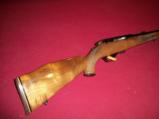 Clip fed, Japanese manufacter. Great figure in the walnut stock, some handleing marks. A nice Weatherby 22!!! Thank You! -R.V. Trolia-.
...Click for more info
Seller: FIRESTIX ARMS
Area Code: 217
$850.0- + S&H.
Weatherby Rifles - Rimfire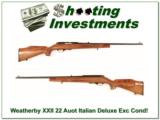 Collectors and shooters, this is the original Weatherby XXII. These 70s 22's were made by Beretta in Italy for Weatherby. This one is in excellent condition with MUC nice wood than most. This is
...Click for more info
Seller: barrybrowning
Area Code: 919
$849.00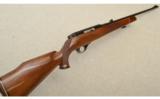 Seller: Cabelas Green Bay
Area Code: 920
$799.99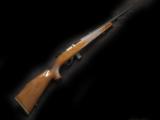 Beautiful and scarce Italian made rifle. Some light handling marks in wood finish and light wear on bottom metal otherwise well-kept example with 10 round magazine. These rifles can be set to single s
...Click for more info
Seller: doublegunhq
Area Code: 325
$675.00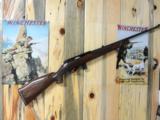 Weatherby Mk XXII magazine fed .22lr. Metal and bore is in good condition, stock is great on right side, has marks in finish on left (see pics). 2 magazines.
...Click for more info
Seller: Guns Galore Montana
Area Code: 406
$695.00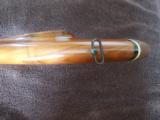 22" fire blue bbl., jewelled action, 10 shot clip, finest of burled Circasian European walnut, skipline checkering, Mk V deluxe grade walnut stock, rorswood forend &amp
...Click for more info
Seller: Charlie Hancock
Area Code: 731
$949.00