Sorry! You're too late.
The Winchester - Hotchkiss 2nd Model Carbine - .45-70 caliber GI# 100990009 has been sold.
Click
here
to see what else is available by Griffin & Howe.
View other listings in this category....
Winchester Rifles - Antique Bolt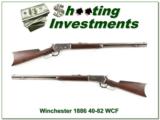 Collectors, this is an 1888 made 1886 in the harder to find 40-82. It has all original finish as seen. It has a 26in barrel. I am selling this one on consignment and as such, lay-a-way can't be
...Click for more info
Seller: barrybrowning
Area Code: 919
$2,999.00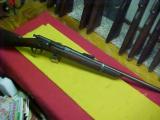 #4827 Winchester-Hotchkiss 1879 (First Model) Carbine, 24"x45/70 round barrel, with a G-VG bore (about a 6-7 on a scale of 10 and looking like it will clean better). VG action having a tubular in-stoc
...Click for more info
Seller: Tom Burness
Area Code: 530
$1175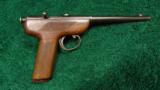 2-piece checkered walnut stock and original 9 barrel which has a step-down mid-way, to lighten it, I assume; original sights, excellent bore. Original wood is excellent with nice, clean checkering and
...Click for more info
Seller: LeRoy Merz Antique Guns
Area Code: 218
$ 3,750.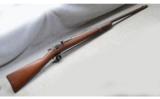 Unique historical firearm... the first bolt action rifle issued to military... they only took a few before the Trapdoor came out.
...Click for more info
Seller: Cabelas Rogers
Area Code: 763
Was: $4,229.99 Now: $3,809.88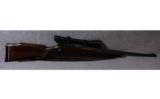 Seller: Cabelas Kansas City
Area Code: 913
Was $1,199.99 Now $919.77

Winchester 1st model Hotchkiss with Frontier alterations. This gun came out of a collection in Minnesota. Buttplate on this gun is a replacement and slightly oversized. Barrel band is missing and gun
...Click for more info
Seller: Collectors Firearms
Area Code: 713
1,495.00

Winchester Hotchkiss 1st Model 1st Model carbine. Has nice smooth patina throughout metal. Wood remains nice, though there is a crack on both sides around the safety where you typically find them. Goo
...Click for more info
Seller: Collectors Firearms
Area Code: 713
2,250.00

Winchester 1st Model Hotchkiss carbine. This is a rare 1st Model Hotchkiss carbine. This gun has a gray/brown patina, but no pitting on the metal. All of the markings remain nice and sharp. The wood h
...Click for more info
Seller: Collectors Firearms
Area Code: 713
1,895.00

Winchester 1897 Hotchkiss .45-70 caliber carbine. U.S. Military issued carbine. During the service life of this weapon, the arsenals used parts from the 1897 rifle thus the reason it has a rifle rear
...Click for more info
Seller: Collectors Firearms
Area Code: 713
2,250.00
Winchester Model 70 Pre 64 270, Seriel # 105727, seriel # matches bolt, MFG 1949, Pachmaur recoil pad. Good Bore, blueing okay, but thin. Wood looks nice but refinished. Once Payment and information
...Click for more info
Seller: ElkLane
Area Code: 724
$795.00
Winchester Model 70 Pre 64 300 H & H, 98% PRIVATE COLLECTION. Seriel # 432603, bolt matches seriel #, Metal Butt, MFG 1958, Nice bore, 26 inch barrel, blueing very nice and wood very n
...Click for more info
Seller: ElkLane
Area Code: 724
$2,600.00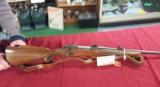 Winchester Model 70 30-06 with a check rest built into the stock. The serial number is 810659 and was manufactured in 1966 only. It was a one year production run. They only made&nb
...Click for more info
Seller: VHF Guns
Area Code: 563
$2450.00