Winchester Rifles - Model 43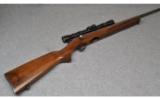 Seller: Cabelas Columbus
Area Code: 614
$899.99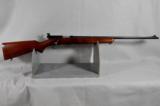 Winchester, bolt action repeating rifle, Model 43, caliber .218 Bee, s/n 17200A (Mfg. only between 1949 and 1957), 24" round tapered ba
...Click for more info
Seller: Maryland Arms Company
Area Code: 410
$1295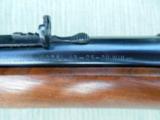 Winchester model 43 (RARE) 25-20 caliber. ?This gun is in extremely good condition. The metal and wood are better than 95%. A great asset to any Winchester collection. Please ask if you need more pi
...Click for more info
Seller: shooks
Area Code: 828
$2,295.00
factory-tapped receiver excellent wood comes with approx. 6 boxes of shells (some are reloads)
...Click for more info
Seller: PG
Area Code: 503
$900.00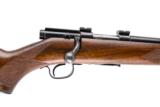 24" BARREL WITH WEAVER BASES EXCELLENT ORIGINAL CONDITION 95% BLUE LIGHT HANDLING MARKS IN THE WOOD
...Click for more info
Seller: Steve Barnett Fine Guns
Area Code: 662
$1,950.00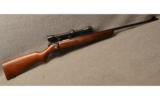 Seller: Cabelas Cheektowaga
Area Code: 716
$1,199.99
Seller: WILDWOOD INC
Area Code: 207
$1,450.00
Winchester 43 .218 Bee caliber rifle. Bolt Action rifle made in the 1950's in desirable .218 Bee caliber. Has a vintage Weaver B6 Scope. Overall excellent condition with excellent bore.
...Click for more info
Seller: Collectors Firearms
Area Code: 713
1,495.00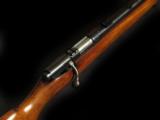 Early rifle in very good overall condition, excellent bore, blueing very strong, recoil pad and Weaver scope bases added, wood chipped on knob but no other significant damage.
...Click for more info
Seller: doublegunhq
Area Code: 325
$735.00

Winchester 43 .218 BEE caliber rifle. Hard to find and ever popular .218 BEE varmint caliber in a lightweight rifle. Probably made around 1952. (Precise Production.) Date not available. Bore is excell
...Click for more info
Seller: Collectors Firearms
Area Code: 713
1,575.00

Winchester 43 .22 Hornet caliber rifle. Near excellent Model 43 with an excellent bore. Action works perfectly. Gun has 98% original blue. Receiver has a Lyman fine tone peep sight. Barrel rear sight
...Click for more info
Seller: Collectors Firearms
Area Code: 713
1,475.00