Sorry! You're too late.
The Winchester, Model 43, .218 Bee, A GREAT FIND, NEVER DRILLED & TAPPED GI# 100887664 has been sold.
Click
here
to see what else is available by Maryland Arms Company.
View other listings in this category....
Winchester Rifles - Model 43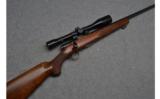 Seller: Cabelas Woodbury
Area Code: 612
$1,199.99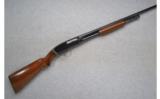 Seller: Cabelas Richfield
Area Code: 262
$1,599.99

.22 hornet caliber, 24" barrel with standard factory sights. Ungrooved receiver NOT drilled or tapped for a scope. Bolt action with detachable magazine. Finished blue, checkered
...Click for more info
Seller: Caledonia
Area Code: 717
$2,895.00
Ser no 51xxxA, Metal Butt, Fatory Drilled for Scope, Correct sights and swivels, 99% Blue, 98%+ wood shows a few very, very light handling marks, Great bore, Comes with original box and paperwork, buy
...Click for more info
Seller: Perry County Firearms
Area Code: 717
$2895.00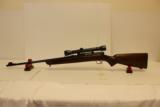 Seller: Gun Sport Ltd.
Area Code: 432
$1,495.00

Winchester 43 .22 Hornet caliber rifle. Bolt action rifle in popular .22 Hornet caliber. The metal has been re-blued and the stock is a custom replacement. Has Weaver K6 scope. Bore is excellent. Show
...Click for more info
Seller: Collectors Firearms
Area Code: 713
$849.95

Winchester Model 43 .218 Bee caliber rifle. Scarce .218 Bee caliber model 43. The stock has some dents and marks and is in very good condition. The metal is excellent with 98% original blue. The bore
...Click for more info
Seller: Collectors Firearms
Area Code: 713
1,450.00

Winchester 43 .218 BEE caliber rifle. Hard to find and ever popular .218 BEE varmint caliber in a lightweight rifle. Probably made around 1952. (Precise Production.) Date not available. Bore is excell
...Click for more info
Seller: Collectors Firearms
Area Code: 713
1,575.00

Winchester 43 .218 BEE caliber rifle. Hard to find and ever popular .218 BEE varmint caliber in a lightweight rifle. Probably made around 1952. (Precise Production.) Date not available. Bore is excell
...Click for more info
Seller: Collectors Firearms
Area Code: 713
1,575.00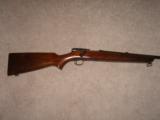 Winchester 43 .22 Hornet, 90% overall, very little use, serial number 56k, 24 inch round barrel, only a little over 62,000 mfg between 1949-1957, factory drilled and tapped, only $975 layaway availabl
...Click for more info
Seller: Marks
Area Code: 585
$975.00

Winchester 43 .22 Hornet Caliber Rifle. Popular bolt action rifle in desirable .22 Hornet caliber. Receiver has been drilled and tapped. Barrel and receiver have minor areas of pitting. Wood is very g
...Click for more info
Seller: Collectors Firearms
Area Code: 713
$995.00

Winchester 43 .218 Bee caliber rifle. Bolt action sporter in desirable .218 Bee caliber. Made in 1951. The metal is excellent with 99% original blue finish. The wood is very good with some light marks
...Click for more info
Seller: Collectors Firearms
Area Code: 713
1,495.00