Winchester Rifles - Model 65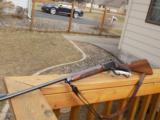 Sold Winchester's Model 65 was manufactured from late 1932-1945. They were originally available in 2 calibers 25-20 and 32 WCF. The 218 Bee was introduced in 1937 and with t
...Click for more info
Seller: TWIN CITY FIREARMS
Area Code: 612
sold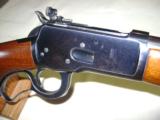 Ser no 1005xxx 24" Barrel, Bolt Peep, Metal Butt, Blank in rear slot, 90-95% Blue, Wood shows slight handling marks Does have a small chip at toe (see picture) Good Bore, Buyer pays 35.00 shippin
...Click for more info
Seller: Perry County Firearms
Area Code: 717
Sold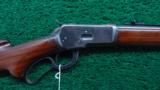 32 cal. Overall VG cond gun. Most blue remains on bbl with a couple of wear spots and some light cleaning done towards the front sight. Good blue on forearm cap. Receiver still has blue that is beginn
...Click for more info
Seller: LeRoy Merz Antique Guns
Area Code: 218
$ 3,295.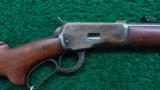 Cal 32 WCF. 22" bbl. Sights include raised ramp front sight missing the hood and sporting rear sight with elevator. Overall metal has thinning blue that has turned mostly a grey color. Receiver h
...Click for more info
Seller: LeRoy Merz Antique Guns
Area Code: 218
$ 1,895.

Winchester Model 65 Rifle .218 Bee caliber (highest demand) As new condition appears unfired since restoration 24" barrel Half length magtube holds 7 Professionally restored As rule
...Click for more info
Seller: Elephant & Castle Fine Arms
Area Code: 417
$3,995.00

Winchester Model 65, 218 Bee, 90% Blue, Bolt Peep, Scratches on one side of Receiver, ?Nice Wood, Some toning on Forend Cap. Perfect Bore.
...Click for more info
Seller: Don Grove
Area Code: 503
$5400 Reduced to $4900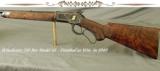 #1002526, Winchester Model 65 in 218-B Finished at Winchester on March 12, 1949. The Winchester letter from their Gun Museum by T. E. Hall, Curator states "This was very special and was used as a
...Click for more info
Seller: Champlin
Area Code: 580
$39,500.00