Sorry! You're too late.
The Winslow Arms Co. Sporting Rifle in 243 Win GI# 100916579 has been sold.
Click
here
to see what else is available by Cabelas Buda.
View other listings in this category....
Winslow Rifles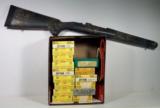 Winslow Arms Company Mark X 257 Weatherby Magnum cal.; custom stocked; SN A295175 with original composite stock; 26 inch Barrel; Extremely Accurate; Included with rifle is reloading data, Dies, 140+ L
...Click for more info
Seller: Collecting Texas
Area Code: 254
$1,475.00

WINSLOW ARMS COMMMANDER GRADE 7mm Rem Mag, Nicely Figured Slender Pistol Grip Stock with Cheek Piece and Beavertail Forend, Rosewood Forearm Tip, One Diamond Ivory Inlay in Rosewood Grip Cap, Ivo
...Click for more info
Seller: Hampel's Gun Co.
Area Code: 231
$1195.00