Zoli Rifles

Zoli - Expedition EL 28 ga - Item Number: 238854 Shotgun type: O&U Action: Boxlock Ejectors: Yes Trigger: Single Selective Grip: Pistol Grip Forend: Checkered Lop: 14 7/8
...Click for more info
Seller: Griffin & Howe
Area Code: 908
$5,265.00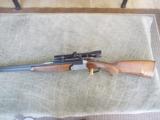 Antonio Zoli 8x57 JRS Ejector Double Rifle with full coverage game scene engraving surrounded by scroll. An Elk is on the left, a Mule Deer on bottom and a Big Horn Sheep on the right.
...Click for more info
Seller: W David Powell
Area Code: 727
$3,995.00
ANTONIO ZOLI, O/U Express Double Rifle, .450 / .400 3" NE, 25'', DT with set trigger, Ejectors, Pistol Grip, Schnable forearm, 1/4 rib with Express sights, Blued Receiver, Pad,
...Click for more info
Seller: William Larkin Moore & Sons
Area Code: 480
$9995
#230790, Antonio Zoli 9.3 x 74R Model Boxlock Ejector Double Rifle Model Express EM Made in 2003, It is with 21 3/4" Ejector barrels with a full top rib with a profiled 1/4 rib with 1 standing fi
...Click for more info
Seller: Champlin
Area Code: 580
$3,200.00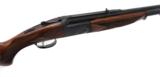 Zoli - Focus II Express - 9.3 x 74R caliber - Item Number: 238666 Rifle type: Double Rifle Action: Boxlock Barrel length: 21 1/2 Sights: Adj. Peep Rear / Post Front Weig
...Click for more info
Seller: Griffin & Howe
Area Code: 908
$6,500.00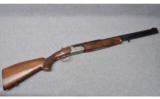 Seller: Cabelas West Chester
Area Code: 513
$5,499.99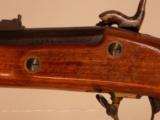 ANTONIO ZOLI REPRODUCTION OF THE REM. ZOUAVE, 33" bbl., SN 233XX, 58 cal., 2 brass bbl. bands, brass patchbox, casehardened lock, flip up 3 position rear sight, steel cleaning rod, 98% bbl. blue,
...Click for more info
Seller: Jim Goergen
Area Code: 507
$550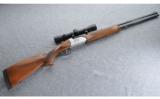 The 7x65R is a rimmed bottleneck cartridge designed by Wilhelm Brenneke for break-open rifles. Break-action guns function best with rimmed cartridges.
...Click for more info
Seller: Cabelas Hammond
Area Code: 219
Was $3,699.99 Now $3,339.88
Anton Zoli combo rifle in 6.5mm X 12 ga. has 25" barrels, weighs 8 lbs, has 14" LOP. Made in Italy, a great combo rifle/shotgun. Has rifle/shotgun sights with mounts for scope. Engraved game
...Click for more info
Seller: Five Hundred Guns
Area Code: 317
$2,495.00
This is a very attractive double rifle in 308 Winchester. Handles quick, and has proven to be surprisingly accurate. Included is a fantastic Carl Zeiss scope. Model EX80 Leopard. 308 Win. If you
...Click for more info
Seller: PugetSoundSellers
Area Code: 206
$3,500.00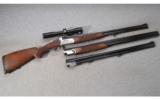 Seller: Cabelas Dundee
Area Code: 734
Was $8249.99 Now $6059.66