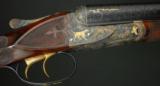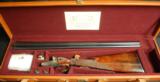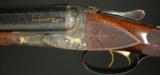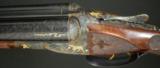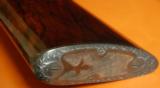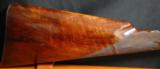 A.H Fox. DFE, 16ga.
Guns International #: 100553328 Seller's Inventory #: 29155
Category: Fox Shotguns - Shotguns - 16 Gauge

Seller's Information
When emailing or calling sellers direct, please mention that you saw their listing on GunsInternational.com



Seller: Connecticut Shotgun
Company: Connecticut Shotgun
Member Since: 3/6/07
State: Connecticut
Zip: 06053
Country: United States
Phone: (860) 225-6581
Number of Active Listings: 1522
Seller: FFL Dealer
Return Policy: 3 day inspection and return policy on used guns.
3 days - (USED GUNS ONLY) DOES NOT APPLY TO NEW GUNS
Payment Types Accepted: MC, Visa, Discover, Cert Check


Description:
A.H Fox. DFE, 16ga., 26" barrels choked M/IM. Unbelievable, superior gun. It is Demunck engraved, extra gold inlays with 2 gold quail on the trigger guard, gold quail on the hinge pin, gold pointer on each side, surrounded by magnificent Demunck scroll and roses. Long engraved barrel wedges, twin white sites. FE Fleur De Lis checkering, select Turkish walnut. Magnificent Brittany Spaniel is engraved on the bottom of the frame. Krupp steel barrels, skeleton butt, long schnabel forend. This is an outstanding special order gun that is really unobtainable today, cost would be $40,000, engraved by one of the world's finest engravers. In its Nizzoli case with all of its accessories. This gun is unused, a few marks from the case, which we will redeliver as a new gun with a lifetime warranty as it is currently unused. The best of the best in Americana. If you are interested in purchasing one of the finest Fox's, this is it.
Inventory # 29155
14 ¼" x 1 ½" x 2 ¼"
5 lbs., 9 oz
$29,995


Price: $29,995