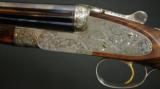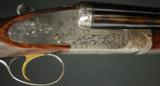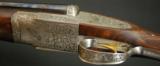 Holland & Holland- FIVE GUN SET "1970 set of 5"
Guns International #: 100523506 Seller's Inventory #: 22710-22711-23087-23086-22607
Category: Holland & Holland Shotguns - Pairs of Shotguns

Seller's Information
When emailing or calling sellers direct, please mention that you saw their listing on GunsInternational.com



Seller: Connecticut Shotgun
Company: Connecticut Shotgun
Member Since: 3/6/07
State: Connecticut
Zip: 06053
Country: United States
Phone: (860) 225-6581
Platinum Seller
Number of Active Listings: 1148
Seller: FFL Dealer
Return Policy: 3 day inspection and return policy on used guns.
3 days - (USED GUNS ONLY) DOES NOT APPLY TO NEW GUNS
Payment Types Accepted: MC, Visa, Discover, Cert Check


Description:
Holland & Holland- FIVE GUN SET "1970 set of 5", First 2 guns are a matched pair of 12 ga, semi pistol grip stocks, checkered butts, single triggers, Turkish walnut, engraved by the master KC Hunt with ornamental scroll, first gun depicts turkeys, geese, and partridge, 2nd gun features pheasants, partridge and ducks. Assisted opening, 1's & 2's on the forends, pistol grip shields, 2 ¾" 3 1'4 ton proof, in their double motor case, the guns remain new and unfired, 2nd pair, 20ga., semi-pistol grip stocks, single triggers, checkered butts, engraved by the master KC Hunt Gun 3 grouse, quail and ducks, gun 4 depicts partridge, doves and woodcock, assisted opening 2 ¾", 3 ¼ ton proof. These are brand new and unfired in a double motor case. And the fifth gun, 28ga., semi pistol grip stock, single trigger, checkered butt, assisted opening, featuring quail, woodcock and doves, in its single motor case. All 5 guns have matching wood, all the same engraver, are simply the best set of 5 Holland & Holland has ever offered. They are new, unfired and perfect. Please call for a more detail review of the guns.

#23086 .005/.005, 10lbs 5 oz, 14 ½" x 1 ½" x 2 ¼"
#23087 .290/.0290, 10lbs 4 oz, 14 ½" x 1 5/8" x 2 ¼"
#22711 .029/.035, 5lbs 11oz, 14 ½" x 1 ¼" x 2 ¼"
#22710 .09/.09 5lbs 11oz 14 ½" x 1 5/8" x 2 ¾"
#22607 .05/.013, 5lb 6 oz, 14 ½" x 1 5/8" x 2 3/8"

://csmcspecials/product_p/22710-22711-23087-23086-22607.htm


Price: $420,000.00