Featured Gun Classifieds Hollis Shotguns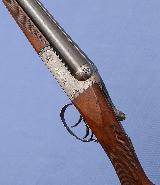 Hollis - Boxlock Non Ejector - 20ga, 2-1/2", 28" Full / Full (.038 / .036) LOP 14-5/8", Drop 1-3/8" to 2-1/8", Weight 5 lbs. 9 oz. Barrels are sleeved and reproofed. Gun is
...Click for more info
Seller: Pendleton Firearms
Area Code: 931
$2550
Hollis Shotguns

A lovely hard to find 20 ga British game gun with harder to find 30in barrels. Light and lively. Good barrels, in proof, no dents, no cracks, locks up tight, no issues. Hidden Greener cross bolt, side
...Click for more info
Seller: Mark's Born Again Birdguns LLC
Area Code: 715
$4195 REDUCED TO $3825!!!!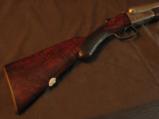 Early toplever ejector damascus gun in clean original condition with good barrels and nicely figured wood. 7lb with stout 30"x 2 5/8" barrels, BP proofs pre-1904, mostly silver out, bright &
...Click for more info
Seller: doublegunhq
Area Code: 325
$1,495.00

ON LAYAWAY Fascinating time capsule ... complete with 2 cav vintage brass mold (round ball and conical) , powder and shot flask, percussion caps. Cape barrels are .375 cal/12 ga inscribed "L. J.
...Click for more info
Seller: doublegunhq
Area Code: 325
$2,250.00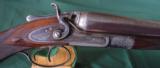 I. Hollis & Sons - London - Damascus Hammer 10 Bore in Exceptionally High Condition. Very Rare to find a late 1800's gun in this condition. Excellen
...Click for more info
Seller: Schwandt Classic Arms
Area Code: 608
$4500.00

Nice Damascus brown on these barrels. The wrist has been well repaired with epoxy and seems very strong. A little checkering and cosmetics could make this a nice looking gun. The bores are fairly br
...Click for more info
Seller: Vintage Doubles
Area Code: 509
$700.00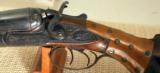 150. Alfred B. Hollis Double Barrel Shotgun, 10 gauge, 32" Damascus barrels, very nice shiny bores. Barrel has a London address and " The COLUMBIA" engraved. Mis
...Click for more info
Seller: Brad Hastings Antique Guns
Area Code: 218
$475.00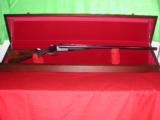 CHARLES HOLLIS & SONS 12 BORE BOXLOCK SXS SPORTING GUN SN 2031. Fine English double with 30 inch bbls choked full/mod with tapered concave smooth rib, single bead, third bite rib extension, double
...Click for more info
Seller: George Lander
Area Code: 803
$2,950.00