Lancaster, Charles Shotguns

30" Imp Cy and Mod barrels were sleeved by Westley Richards, 2½" chambers, nice rounded coin-finish action with scroll engraving. 6¾ lbs.
...Click for more info
Seller: Orvis
Area Code: 802
$3,000.00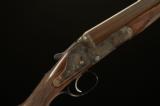 Charles Lancaster Assisted Opening Best Sidelock Ejector, Lancaster backaction sidelock in the late revised third type design incorporating the V-mainspring and though retaining the previous versions'
...Click for more info
Seller: M.W. Reynolds, Inc.
Area Code: 303
$7,950.00
This gun has great bores and super thick wall thickness. Want to blow the head off a Turkey? Plan for Thanksgiving and purchase this gun and I assure you come Turkey day you will have some great sto
...Click for more info
Seller: Vintage Doubles
Area Code: 509
$3,600.00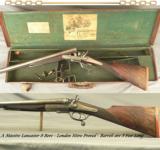 #5156, Charles Lancaster, 151 New Bond St., London, Patent Breech Loader, Choke: A Massive Lancaster Jones Back Action Underlever 8 Bore Rebounding Hammer London Nitro Proved Smoothbore Made in 1882 w
...Click for more info
Seller: Champlin
Area Code: 580
$11,500.00

Classic slide and tilt patent on this beautiful Rubenesque classic! Note the 3" nitro proofs!
...Click for more info
Seller: Vintage Doubles
Area Code: 509
$6,800.00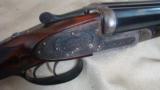 Rare Charles Lancaster 16 bore, best quality, built on the unique "12-20" action. 28" chopperlump barrels, 2-3/4" chambers, choked .013/.016. Perfect bores and walls, the barrels h
...Click for more info
Seller: Osprey
Area Code: 516
$24,000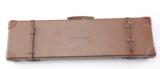 C. Lancaster Sidelock Ejector. Toplever Over/Under Best Quality 16 bore 2 ½" Game Gun. 28" barrels. Detachable locks with single trigger and bagged grip. Cas
...Click for more info
Seller: DoubleGunz
Area Code: 011
$40,000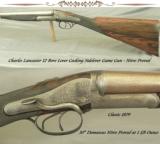 #4918, Charles Lancaster, 151 New Bond St., London "Hammerless Breech Loading Gun": A Charles Lancaster 12 Bore Lever Cocking Sidelever Opening Hammerless Back Action Rounded Body Extractor
...Click for more info
Seller: Champlin
Area Code: 580
$8,900.00