Featured Gun Classifieds Lebeau Courally Shotguns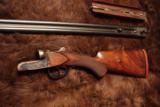 Verees & Co. 28ga. 28" auto-ejector, built by Lebeau Courally 1954, Chokes F-F (.028) Doub. Trig., LOP 14 1/4" to Silvers type pad, DAC 1 3/8" DAH 2" Beaver tail FE
...Click for more info
Seller: Crowley
Area Code: 207
$4250
Lebeau Courally Shotguns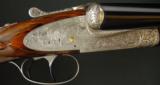 LEBEAU COURALLY – Best Sidelock Double Rifle – .470 Nitro Express, stunning Turkish circassian walnut stock, trap door pistol grip, cheekpiece, leather covered pad, long top and bottom tan
...Click for more info
Seller: Connecticut Shotgun
Area Code: 860
$110,000.00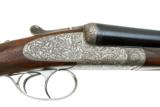 MADE 1972 ROUND ACTION SIDELOCK 27 1/2" 007 AND 016 2 3/4 DOUBLE TRIGGER EJECTORS SPLINTER FOREARM ENGLISH GRIP CHECKERED BUTT EXCELLENT PLUS CONDITION 6LBS 9 OZ X 2 1/2 X 1 1/2 X 14 3/4
...Click for more info
Seller: Steve Barnett Fine Guns
Area Code: 662
$17,500.00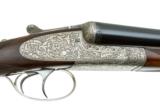 MADE 1972 ROUND ACTION SIDELOCK 27 1/2" 005 AND 021 2 3/4 DOUBLE TRIGGER EJECTORS SPLINTER FOREARM ENGLISH GRIP CHECKERED BUTT EXCELLENT PLUS CONDITION 6LBS 9 OZ X 2 1/2 X 1 1/2 X 14 3/4
...Click for more info
Seller: Steve Barnett Fine Guns
Area Code: 662
$19,500.00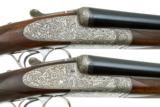 MADE 1972 ROUND ACTION SIDELOCK 27 1/2" 007 AND 016 2 3/4 27 1/2 005 AND 021 2 3/4 DOUBLE TRIGGER EJECTORS SPLINTER FOREARM ENGLISH GRIP CHECKERED BUTT EXCELLENT PLUS CONDITION 6LBS 9 OZ X 2 1/2
...Click for more info
Seller: Steve Barnett Fine Guns
Area Code: 662
$39,000.00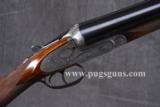 Seller: Puglisi Gun Emporium
Area Code: 218
$13,495.00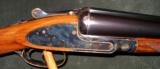 LEBEAU COURALLY BROWNING SIDELOCK 12GA S/S SHOTGUN, LIGHT SCROLL ON CASE COLORED ACTION, 28" BBLS, 2 3/4, LM/IM, STANDARD GAME RIB, EJECTORS, DBL TRIGGERS, BEAUTIFUL FIGURED MEDIUM DARK WALNUT, S
...Click for more info
Seller: Safari Outfitters Ltd.
Area Code: 845
$7,495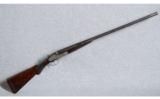 Webley & Scott / Lebeau-Courally Sidelock Ejector 12 Gauge. 30 inch barrels with a tapered, matted, solid rib with front white bead and a intermediate bead (the intermediate bead insert
...Click for more info
Seller: Cabelas Boise
Area Code: 208
$3,299.99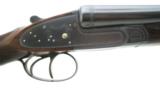 Lebeau-Courally - Sidelock Ejector - 12 ga - Item Number: LEB36944.2 Shotgun type: SxS Action: Sidelock Ejectors: Yes Trigger: Double Grip: Straight Grip Forend: Splinter L
...Click for more info
Seller: Griffin & Howe
Area Code: 908
$7,495.00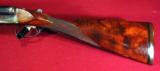 Lebeau-Courally 12 Gauge built in 1963 with 28" dovetail lump IC/M ejector barrels with raised matted rib and ivory mid and front beads. 2 3/4" chambers. Bores are as new measuring .730 righ
...Click for more info
Seller: Dismal River Armory
Area Code: 308
$4695

August Lebeau Boxlock SxS 12 gauge shotgun with 2 1/2"" chambers and 27 3/4"" full/improved cylinder barrels.
...Click for more info
Seller: Collectors Firearms
Area Code: 713
2,795.00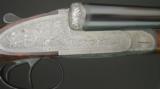 LEBEAU COURALLY- 12 gauge, 28" barrels choked IM/F, double triggers, Prince of Wales grip on a magnificently figured French walnut stock, splinter forend, automatic ejectors, outstanding full co
...Click for more info
Seller: Connecticut Shotgun
Area Code: 860
$24,999.00