Featured Gun Classifieds Manufrance Shotguns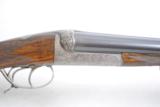 Here is a Manufrance Grade 6 RE in 16 gauge. Broad scroll and vine engraving. Famous rising bite lock up. Trigger plate action. Lever forend fastening system. Chisled vine fences with side clips. Ejec
...Click for more info
Seller: A-Coin and Stamp Gallery Inc
Area Code: 407
$6,750
Manufrance Shotguns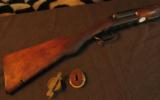 Hard to find gun in good shape as "Americanized" with original retractable sling (removed to save the strap). Forend wood replaced w. full beavertail, nicely recheckered to match; and a vent
...Click for more info
Seller: doublegunhq
Area Code: 325
$1,450.00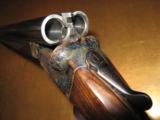 Professionally restored high grade ejector gun in close to mint condition. Has an unusual action with intercepting sears, not pinned in the usual fashion. Case colors on highly engraved action are gor
...Click for more info
Seller: doublegunhq
Area Code: 325
$1,850.00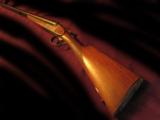 Tight, strong intercepting sear extractor gun with long straight stock, English hand (unusual on a French gun) and attractively engraved receiver. 27.5"x 2.5" nitro-proofed steel barrels wit
...Click for more info
Seller: doublegunhq
Area Code: 325
$775.00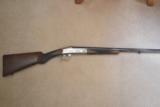 Here is a gun that I have spent allot of time trying to identify! It's a MAINFRANCE High Grade single barrel 12ga. withe a rifled barrel Model SIMPLEX! I found an old catalog of 1931 that had the
...Click for more info
Seller: Old Centurion
Area Code: 352
REDUCED PRICE! $600.00 OR BEST OFFER!

Manufrance Ideal guns as some of you may well know have been a special interest of mine for many years. This is a very light 12 with very interesting fine engraving on the rib. The original retracta
...Click for more info
Seller: Vintage Doubles
Area Code: 509
$2,600.00

This has been rather amateur stocked at least in the butt. The hidden sling is missing and needs a butt plate or pad. The barrels show some pitting but I believe would clean up as you could remove .
...Click for more info
Seller: Vintage Doubles
Area Code: 509
$900.00

MANUFRANCE - 16 GA. SXS -BOXLOCK EXTRACTOR GUN - 26 3/4" BARRELS CHOKED SKT (.002) / IC (.012) - CHAMBERS LENGTHENED FROM 2 1/2" TO 2 3/4" - NOT REPROOFED
...Click for more info
Seller: Stephen Cobb Quality Guns
Area Code: 908
$575.00

A nice solid round action from France with the classic double under bite with the rising third bite these Ideal grades are known for. Note that the retractable sling is missing from the stock. Pittin
...Click for more info
Seller: Vintage Doubles
Area Code: 509
$2,000.00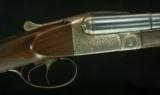 This is a very nicely made and engraved prewar gun. *** Note: To see this gun with high resolution photos and a zoom-in feature, go to the vintagedoubles main site and search for the gun ID: 1282 or b
...Click for more info
Seller: Vintage Doubles
Area Code: 509
$2,400.00