Featured Gun Classifieds Manufrance Shotguns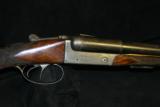 This is a French built ROBUST model 30S, which is a double shotgun with right barrel " rifled" and meant to shoot slugs! The typical Robust features,lightweight,swamp rib and cut outs for th
...Click for more info
Seller: Carolina Sporting Arms
Area Code: 704
$1,650.00
Manufrance Shotguns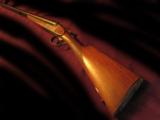 Tight, strong intercepting sear extractor gun with long straight stock, English hand (unusual on a French gun) and attractively engraved receiver. 27.5"x 2.5" nitro-proofed steel barrels wit
...Click for more info
Seller: doublegunhq
Area Code: 325
$775.00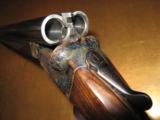 Professionally restored high grade ejector gun in close to mint condition. Has an unusual action with intercepting sears, not pinned in the usual fashion. Case colors on highly engraved action are gor
...Click for more info
Seller: doublegunhq
Area Code: 325
$1,850.00

While this fine Ideal grade (pronounced "EE-DEE-ELL") is sound and field ready it does have a fair amount of handling marks in the wood and no case color remaining, thus the very fair price for this g
...Click for more info
Seller: Vintage Doubles
Area Code: 509
$2,400.00

MANUFRANCE - 16 GA. SXS -BOXLOCK EXTRACTOR GUN - 26 3/4" BARRELS CHOKED SKT (.002) / IC (.012) - CHAMBERS LENGTHENED FROM 2 1/2" TO 2 3/4" - NOT REPROOFED
...Click for more info
Seller: Stephen Cobb Quality Guns
Area Code: 908
$575.00

Manufrance Ideal 16 Gauge Side-by-Side GRADE 4, MODEL No. 334, - RARE SELF-OPENER General Specs: Manufrance, 16 Gauge, 6lbs 4oz, SxS Serial Number: 80743 Manufrance Ideal is one of F
...Click for more info
Seller: Vintage Firearms, Inc
Area Code: 616
$6,950.00

A nice solid round action from France with the classic double under bite with the rising third bite these Ideal grades are known for. Note that the retractable sling is missing from the stock. Pittin
...Click for more info
Seller: Vintage Doubles
Area Code: 509
$2,000.00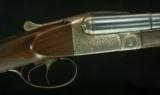 This is a very nicely made and engraved prewar gun. *** Note: To see this gun with high resolution photos and a zoom-in feature, go to the vintagedoubles main site and search for the gun ID: 1282 or b
...Click for more info
Seller: Vintage Doubles
Area Code: 509
$2,400.00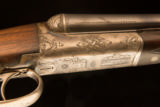 Check out the condition on this wonderful trigger plate round action. These also feature chopper lump barrels and a rising third bite which is truly a work of engineering art. If you do not have o
...Click for more info
Seller: Vintage Doubles
Area Code: 509
$3,400.00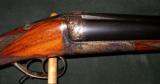 MANUFRANCE RARE BEST BOXLOCK GRADE 4, MODEL 332 S/S 12GA, PRE WAR 1939 MFG DATE, CASE COLORED ACTION WITH BEAUTIFUL TIGHT SCROLL & DEEP CUT FENCES, 27 1/2" CHOPPER LUMP BBLS, 2 3/4, CHOKED IM
...Click for more info
Seller: Safari Outfitters Ltd.
Area Code: 845
$8,950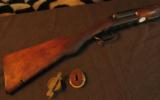 Hard to find gun in good shape as "Americanized" with original retractable sling (removed to save the strap). Forend wood replaced w. full beavertail, nicely recheckered to match; and a vent
...Click for more info
Seller: doublegunhq
Area Code: 325
$1,450.00

Manufrance Ideal guns as some of you may well know have been a special interest of mine for many years. This is a very light 12 with very interesting fine engraving on the rib. The original retracta
...Click for more info
Seller: Vintage Doubles
Area Code: 509
$2,600.00

This has been rather amateur stocked at least in the butt. The hidden sling is missing and needs a butt plate or pad. The barrels show some pitting but I believe would clean up as you could remove .
...Click for more info
Seller: Vintage Doubles
Area Code: 509
$900.00