Sorry! You're too late.
The William Powel Bar in Wood 16 Bore GI# 100338719 has been sold.
Click
here
to see what else is available by Iron Dog.
View other listings in this category....
Featured Gun Classifieds Powell & Sons, Wm Shotguns

William Powell & Son Best Grade Sidelock 12ga Dolls head barrel extensions, Automatic safety catches, Southgate ejector systems, Anson bolt forend faste
...Click for more info
Seller: Artemis Outfitters
Area Code: 302
$19,995.00
Powell & Sons, Wm Shotguns

Strong case colors, good bore, Briley thinwall choke tubes.(br) $3,499.99 Sale $3,199.99 Save $300.00!!
...Click for more info
Seller: Bass Pro Shops Springfield
Area Code: 417
$3,499.99 Sale $3,199.99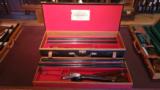 Maker: Wm Powell & Sons Model: SLE Gauge: 12 - 12 Barrels: 28" Chokes: Good Cyl - Good Cyl/IC - IC/F - M/M - IC L.O.P. : 14 1/4" Drop: 1 1/2"C x 2 1/4"H Weight: 6 lbs 6 oz Ser. #: 12866 & 12868 Stock
...Click for more info
Seller: Robin Hollow Outfitters
Area Code: 401
$35,000
100% RESTORED IN THE UK 30" 010 AND 010 2 3/4 DOUBLE TRIGGER EJECTORS SPLINTER FOREARM ENGLISH GRIP RESTOCKED WITH REALLY NICE WOOD CHECKERED BUTT EXCELLENT CONDITION 6LBS 7 OZ X 2 1/4 X
...Click for more info
Seller: Steve Barnett Fine Guns
Area Code: 662
$11,500.00

William Powell & Son Shotgun 12 bore Boxlock Has ejectors 30" Nitro Proofed Damascus barrels 14-1/8" LOP Very detailed scroll engraving Serial number 10900
...Click for more info
Seller: Elephant & Castle Fine Arms
Area Code: 417
$4,997.00

William Powell & Son Box Lock 12ga Shotgun with Ejectors. Very good overall condition. Lockup is tight and crisp. Complete with leather luggage case. Call or email for additional
...Click for more info
Seller: Artemis Outfitters
Area Code: 302
$2,195.00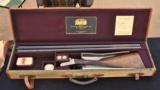 William Powell best quality, BLE 12 Gauge, 29″ barrels, improved cylinder & LT MOD, cased with accessories, excellent
...Click for more info
Seller: BOB HUNTER
Area Code: 334
$2,595.00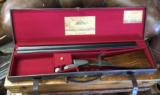 This gun has been beautifully and tastefully restored by respected English restoration shop "Heritage Guns." Toby Barkley the owner and craftsman of this fine business made the following notes on thi
...Click for more info
Seller: Vintage Doubles
Area Code: 509
$7,600.00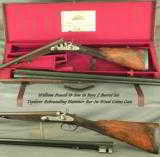 #8250, William Powell & Son, 13 Carrs Lane, Birmingham: A 16 Bore 2 Barrel Toplever Rebounding Hammer Bar Action Bar-in-Wood Game Gun Made in 1887 with 29" Extractor Damascus barrels, These d
...Click for more info
Seller: Champlin
Area Code: 580
$7,950.00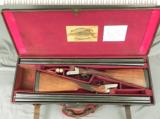 #10279 & 10280, William Powell & Son, Carrs Lane, Birmingham: A 12 Bore Pair of Boxlock Ejector Game Guns Made 1898, Both guns rebarreled with modern 30" Ejector Dovetail lumps with a dolls head exten
...Click for more info
Seller: Champlin
Area Code: 580
$8,500.00