Featured Gun Classifieds Ruger Shotguns - Gold Label

Ruger Gold Label SXS WBox 12 GA 3", 28" solid rib bbls, shiny smooth bores, includes five choke tubes (Skeet (2), FULL, MOD, IMP CYL),blued finish on barrels and trigger guard, receiver has
...Click for more info
Seller: Sprague's Sports Inc.
Area Code: 800
$3,299.00
Ruger Shotguns - Gold Label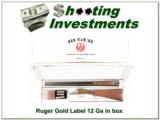 This is a very hard to find Ruger Gold Label SxS 12 gauge. It is in excellent condition with 28in barrels. It comes in original box and accessories. It has only a few minor marks. I am selling it on c
...Click for more info
Seller: barrybrowning
Area Code: 919
$3,499.00

Ruger - Gold Label - 12 ga - Item Number: RUG460-02800 Shotgun type: SxS Action: Boxlock Ejectors: Yes Trigger: Single Grip: Straight Grip Forend: Checkered Lop: 14 1/4 " Pad thi
...Click for more info
Seller: Griffin & Howe
Area Code: 973
$3,000.00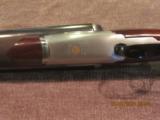 Ruger Gold Label 12ga w/28" choke tubed barrels, professional stock extension to 15 5/8" w/leather covered pad. As new condition $2950.00. Free shipping. John 443-952-7165
...Click for more info
Seller: A-ASS (Assoc. Sports Suppliers)
Area Code: 443
$2950.00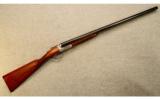 Seller: Cabelas Glendale
Area Code: 623
$3,599.99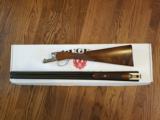 Heres a chance to own my ruger gold label sxs 28in barrels with removable chokes. Very low round count under 500 so gun is still like new need this one out safe to make room for other new purchases. 
...Click for more info
Seller: wincollectors
Area Code: 562
Sold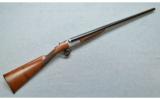 Seller: Cabelas Hazelwood
Area Code: 314
Was $3,799.99 Now $3,079.77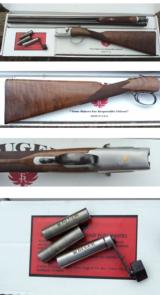 *** SOLD *** SOLD *** 2005 Ruger Gold Label SxS 12 gauge having 28" barrels with five screw-in chokes (imp cylinder, mod, full & 2 skeet) & choke wrench in f
...Click for more info
Seller: Tommy Guns
Area Code: 724
$3,399.00