Sorry! You're too late.
The J.P. Sauer and Sons Model 40E 12ga/28" Prussian Mfg. (USED) GI# 100652402 has been sold.
Click
here
to see what else is available by Jaqua's Fine Guns Inc.
View other listings in this category....
Sauer Shotguns - Prussian

J. P. SAUER - S X S BOXLOCK EXTRACTORS - 30" BARRELS MOD./FULL - SEMI PISTOL GRIP - LOP 13" TO END OF WOOD - PRESENT PAD NEEDS REPLACING - DROPS COMB 1 11/16" X HEEL 2
...Click for more info
Seller: Stephen Cobb Quality Guns
Area Code: 908
$900.00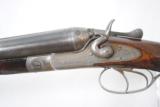 Here is a JP Sauer 12 hammer game gun stocked to the fences. Original unrestored condition. Fluid steel 30" barrels . Traces of case color in protected areas. Made in Suhl, Germany. Good bores. R
...Click for more info
Seller: A-Coin and Stamp Gallery Inc
Area Code: 407
$1,850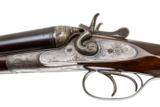 29 1/2" FULL AND FULL 2 1/2" CHAMBERS DOUBLE TRIGGER EXTRACTORS SPLINTER FOREARM PISTOL GRIP NEW ORIGINAL CONDITION 6LBS 8 OZ X 2 1/2 X 1 1/2 X 14 1/2
...Click for more info
Seller: Steve Barnett Fine Guns
Area Code: 662
$3,950.00
J. P. SAUER & SOHN BLE Field, 16 gauge Boxlock O/U, 2 1/2" ch., 27 1/2" bbls. w/ Solid flat filed rib, Choked Bottom .005/ Skt 1, Top .011/ Skt 2, Ejectors, Double trigger
...Click for more info
Seller: Fieldsport LTD
Area Code: 231
$2,495. Price Just Reduced!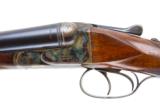 #191XXX 28" 014 AND 037 2 1/2" CHAMBERS DOUBLE TRIGGER EXTRACTORS SPLINTER FOREARM PISTOL GRIP NEW ORIGINAL CONDITION 6LBS 5 OZ X 2 3/4 X 1 9/16 X 14 1/4
...Click for more info
Seller: Steve Barnett Fine Guns
Area Code: 662
$2,650.00

We are offering for sale a "Charles Daly" marked PRUSSIAN DRILLING believed to be made by J.P. Sauer & Sohn, circa 1900. This SCARCE drilling is chambered in 20 Ga. barrels over a 38/5
...Click for more info
Seller: BAY STATE GUN BUYERS
Area Code: 508
$3,795.00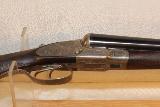 J. P. Sauer double 12 gauge and 12 gauge by 11.75 X 67 MM cape gun. Two barrel set, one set of barrels are 12 gauge that have been opened to 2 3/4" chambers and are choked Modified and full. The
...Click for more info
Seller: DEK
Area Code: 828
$3250.00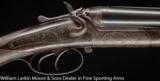 ID # 6228 Make J.P. SAUER Model Back Action Hammer Sidelever Drilling Configuration Drilling Gauge / Caliber 16ga / 8x48R Sauer Price&n
...Click for more info
Seller: William Larkin Moore & Sons
Area Code: 480
$2,800.00