Sorry! You're too late.
The J P Clabrough impressive 8 gauge hammer double GI# 100871671 has been sold.
Click
here
to see what else is available by B C Kinsey.
View other listings in this category....
Shotguns - 4 and 8 Gauge

An exceptional Belgian 8 Ga Hammer Gun with 36 Inch barrels marked Genuine Laminated Steel on the top rib and with most all the original pattern, etc. Action is tight - bores are very good to ex
...Click for more info
Seller: Ocala Armory
Area Code: 352
$6,995.00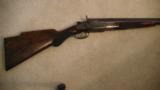 William R. Schaefer was established in 1853. His business became William R. Schaefer & Son in 1885. He was a retailer for various makes including the renowned Prussian Charles Daly. H
...Click for more info
Seller: J.Godo
Area Code: 248
$3,500.00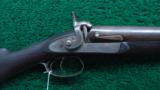 This is a percussion shotgun with 28" bbls. The bores are surprisingly nice. Bright and shiny. No pitting but some light roughness. Overall the bores are VG+. Exterior of the bbls are mostly a gr
...Click for more info
Seller: LeRoy Merz Antique Guns
Area Code: 218
$ 2,375.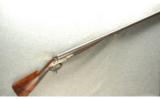 Seller: Cabelas La Vista
Area Code: 402
$4199.99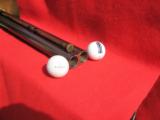 An English percussion commercial fowler with 34" Damacus barrels marked "London Fine Twist". Barrel flats marked"H&S" with Birmingham proofs. Muzzels are: L=1.02", R=
...Click for more info
Seller: Bigboreuk
Area Code: 830
$12,500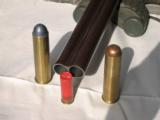 Very rare Brithish 4-bore 16 pound hammer gun.Damascus 35 3/4" full choked (0.96") beautifully patterned barrels with a 4" x 1.085" chambers.Birmingham proofs. Lock plates mar
...Click for more info
Seller: Bigboreuk
Area Code: 830
$26,000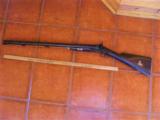 From a mid-west estate sale, a beautiful antique percussion double barreled 8 gauge shotgun with stock and barrel inlays. The 29" barrels have gold barrel bands, both appear to have good bores an
...Click for more info
Seller: tlriver
Area Code: 816
$1,699.99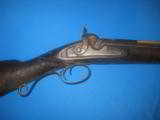 This English double barrel 8 gauge fowler was originally a flintlock and it was converted to percussion. The lock plates are marked T. or J. Adams and the 36 inch wire damascus barrels are Birmingham
...Click for more info
Seller: Jacob Hranowskyj
Area Code: 804
$1,150.00