Sorry! You're too late.
The Daiwa "Shadow" in 12 ga. GI# 100874707 has been sold.
Click
here
to see what else is available by Northwest Fine Guns.
View other listings in this category....
Featured Gun Classifieds Shotguns - Japanese
JUST IN A MIROKU M 3800 O/U 12GA 30" BBLS FIXED CHOKES F & M GUN HAS 99% ORIG BLUE MINT BORES WOOD AS NEW NO BOX HAS HANGING TAG & MANUAL CALL TO ORDER AT 401 738 1889
...Click for more info
Seller: D&L HUNTING
Area Code: 401
$849.99
Shotguns - Japanese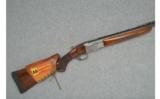 Seller: Cabelas Sun Prairie
Area Code: 608
$1,199.99

Fuji Model 2000 Super Auto 12 GA Semi-Auto Shotgun 28" Vent-Rib, Mod-Choke Barrel Very Good Condition. Vent-rib barrel. Modified choke. Call or email for additional
...Click for more info
Seller: Artemis Outfitters
Area Code: 302
$450.00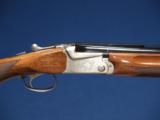 SKB 585 28ga. 28 in barrels. IC & Mod screw chokes. Single selective trigger. Automatic ejectors. 98%. Excellent bores. Fine hairline crack in forearm.
...Click for more info
Seller: Crosnoe Guns
Area Code: 573
$1,295.00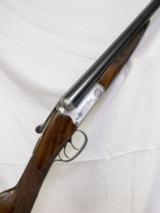 MIROKU Field, Boxlock 12 gauge, 2 3/4" Ch., 28" bbls., Filed concave rib, Choked Right: .727 / .017 / LM, Choked Left : .727 / .022 / M, Extractors, Double triggers, Restocked by Dennis Pott
...Click for more info
Seller: Fieldsport LTD
Area Code: 231
$1495.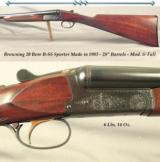 #04811PX168, Browning SxS 20 Bore Model B-SS Sporter with a Straight English Stock Made in 1983 with 28" barrels at .619 .017 & .034" (Mod. & Full), 3" chambers, Single selectiv
...Click for more info
Seller: Champlin
Area Code: 580
$2,350.00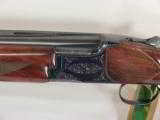 Seller: WILDWOOD INC
Area Code: 207
$950.00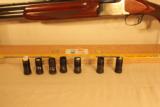 Win 101 12 guage 3" Light Weight Over-Under with 27" magna ported barrels, ventalated rib with center ivory bead sight. NINE choke tubes for every choke you could want. Cyl .735; SK .730; IC
...Click for more info
Seller: DEK
Area Code: 828
$1250.00