Sorry! You're too late.
The Watson One Trigger 12 Gauge Best Ejector GI# 100267272 has been sold.
Click
here
to see what else is available by Willoughby McCabe & Co..
View other listings in this category....
Watson Brothers Shotguns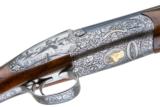 KEN HUNT ENGRAVED 29" SOLID RIB MOD AND FULL SINGLE TRIGGER EJECTORS FIELD FOREARM PISTOL GRIP ENGRAVED GRIP CAP AND ENGRAVED HEEL AND TOE PLATES AS NEW IN MAKERS CASE 6LBS 8 OZ X 2 X 1 3/8 X 14
...Click for more info
Seller: Steve Barnett Fine Guns
Area Code: 662
$89,500.00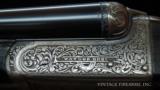 Watson Bros. 20 Gauge Side-by-Side Shotgun BEST LONDON GUN, EJECTORS, 1930, HIGH FACTORY CONDITION General Specs: Watson Bros, Year 1930, 20 Gauge, 5lbs 10oz, SxS Serial Number: 10196
...Click for more info
Seller: Vintage Firearms, Inc
Area Code: 616
$13,950.00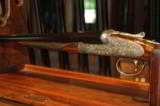 Maker: Watson Bros Model: Best SLE Gauge: 20 Barrels: 29" 27" Chokes: 1C - M / SKT-1C L.O.P. : 14 3/4" Drop: 1 5/8"C x 2 1/4"H Weight: 5 lbs 14 oz Ser. #: 20051 Stock #: 5834 Price: $75,000 New or Use
...Click for more info
Seller: Robin Hollow Outfitters
Area Code: 401
$75,000

Watson Bros. Gunmaker Side by Side 12 gauge shotgun. English side by side shotgun with automatic ejectors. Boxlock gun with double triggers. Chokes are improved cylinder and modified. Chambered and pr
...Click for more info
Seller: Collectors Firearms
Area Code: 713
2,350.00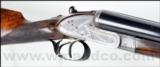 Watson 12 Gauge SLE - 2 1/2" chamber, drop at heel 2", bore r.730/l.730 with chokes of r.018/l.026 This gun has exceptional wood with a nice long l.o.p, the dimensions are very modern and us
...Click for more info
Seller: Willoughby McCabe & Co.
Area Code: 469
$12500.00