Sorry! You're too late.
The Mauser – Model 66 Standard, .25-06, bolt action rifle GI# 100225280 has been sold.
Click
here
to see what else is available by Connecticut Shotgun.
View other listings in this category....
Featured Gun Classifieds Mauser Rifles - Model 66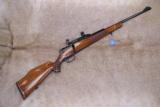 Mauser - Werke A.G. Oberndorf a.N. Model 66 30-06 24" standard interchangeable barrel, telescoping short action, single trigger, Monte Carlo walnut stock with checkering, rosewood tipped
...Click for more info
Seller: ZINCAIN
Area Code: 573
$1699
Mauser Rifles - Model 66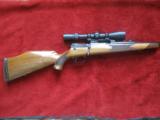 24" hooded blade front, adj. & detatchable rear, adj. trigger, original Mauser base, rings, exotic European Belgium walnut, Monte Carlo skipline checkering with Rosewood tipped forearm, Weave
...Click for more info
Seller: Charlie Hancock
Area Code: 731
$1,675.00

Mauser Model 66 S .308 Win 24 inch barrel, double set triggers. Stock shows added finish, original butt plate and factory barrel band swivel. Front sight hood ,Blue is perfect.
...Click for more info
Seller: twiggy
Area Code: 585
$795.00 (new lower price)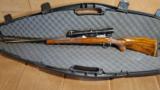 Beautiful Highly Engraved Custom Mauser Bolt Action Rifle, SN#1214, .243 cal., 26'' blue barrel is marked G.B. Krannich (maker), as well as ''Vilge Vanke'' (possibly the origin
...Click for more info
Seller: Shootalot
Area Code: 917
$6,000.00
Mauser – Model 66 Standard, .25-06, bolt action rifle, 24" barrel, telescoping short action, Monte Carlo walnut stock with Bavarian style cheek piece and skipline hand checkering, Rosewood
...Click for more info
Seller: Connecticut Shotgun
Area Code: 860
$2,999.00