Springfield Armory recently introduced the new SA-35, a 9 mm handgun, which is based on one of the most legendary and world famous handgun designs of all time. A modern take on the classic design from John Moses Browning's original P-35, this new handgun from Springfield Armory pairs a wood and steel look with modern engineering enhancements.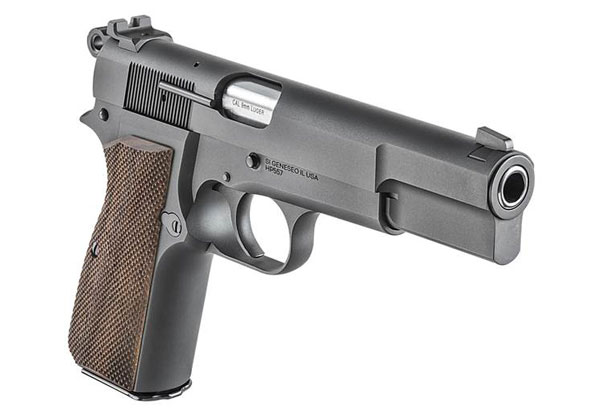 The SA-35 is made in the USA and utilizes forged steel parts that are made to take a beating a last many lifetimes, while improved ergonomics and enhanced controls, as well as a factory tuned trigger, make this an iconic handgun in its own right. The handgun also comes with modern-style sights, an improved feed ramp design, and 15-round capacity.
Regarding design features, the SA-35 comes with checkered walnut grips and a matte blued finish on a carbon steel frame. A white-dot front sight and Tactical Rack rear sight delivers optimal sight picture for improved accuracy and overall performance of the handgun.
SA-35 Specifications:
Caliber: 9 mm
Color: Black
Barrel: 4.7 inches, cold hammer forged, 1:10-inch twist
Slide: Forged carbon steel, blued
Frame: Forged carbon steel, blued
Sights: White dot front, serrated Tactical Rack rear
Recoil system: SA-35 recoil spring & guide rod
Weight: 31.5 ounces
Length: 7.8 inches
Height: 4.8 inches
Magazines: 1, 15-round
Find a huge selection of Springfield Armory Pistols for Sale at at GunsInternational.com.
You might also be interested in:
Springfield Armory XD Pistols for Sale
.