The short-barrel Colt Python is back in production, giving fans of this classic hand cannon a better option for concealed carry.
The past few years have seen Colt reintroducing several of its classic snake pistols. Starting with the Cobra in 2017 and the King Cobra in 2019, the company kept the ball rolling with the Python in 2020 and the Anaconda in 2021. The new-production Python, however, was only available with either a 6-inch or 4.25-inch barrel. Now at the dawn of 2022, after being out of production for over 20 years, the company has decided to bring back the more CCW-friendly version of its most iconic snake gun: the short-barrel
Colt Python
.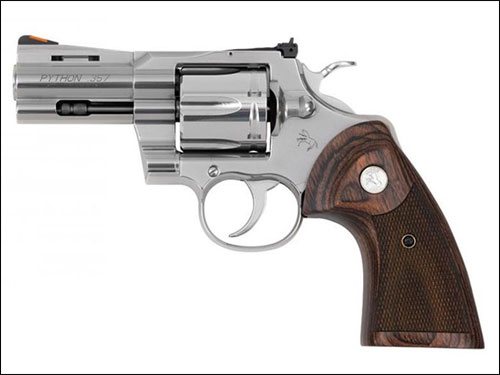 Now sporting a 3-inch barrel, the new short-barrel
Colt Python
is otherwise identical to the previously rebooted, longer-barreled Python models. That includes its 6-round cylinder, DA/SA action and famously smooth trigger. It's still chambered for .357 Magnum and is ready to handle hot, full-house loads.
The short-barrel Colt Python also has an adjustable rear sight, an interchangeable red front sight and a ribbed top strap for preventing glare. Cosmetically, it features a checkered walnut grip with an inlaid gold Colt logo and the stainless-steel frame comes in a semi-bright finish. This returning classic will have an MSRP of $1,499 and should be more useful off of the range than any of the larger models that were previously available. This news could have only been made better if they had announced a blued version as well.
Check out the selection of Colt Python Revolvers for sale at GunsInternational.com.