An effective solution for any problem situation.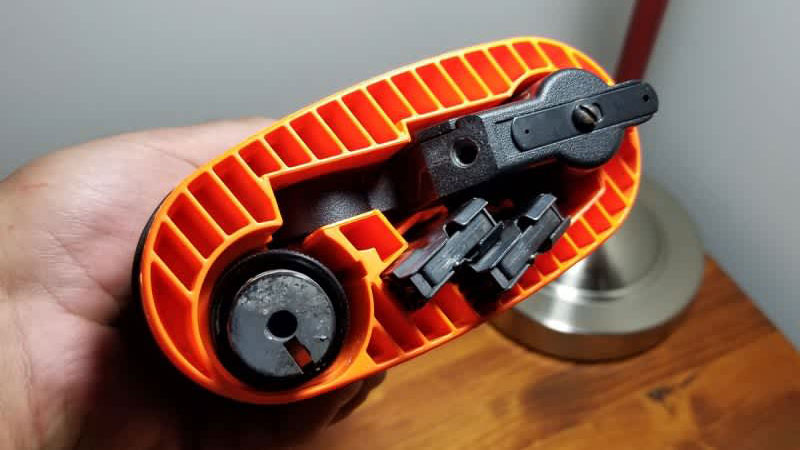 Rimfire firearms have been a staple of any serious outdoorsman's arsenal for well over 100 years. The simplicity, affordability, and lightweight nature of rimfire rifles makes them perfectly suited for small game hunting, pest control, fun plinking and in a pinch self-defense. Most of us probably shot a rimfire rifle as one of our first experiences with firearms and personally I can say that today Rimfire guns in general have been one of my constant favorites throughout the years. These are my top 5 rimfire survival rifles for any situation. Hopefully I'd never need it to come to that, but if it did, one of these would help me (or you) be prepared.
1. The Ruger 10/22 Takedown - Editor's Pick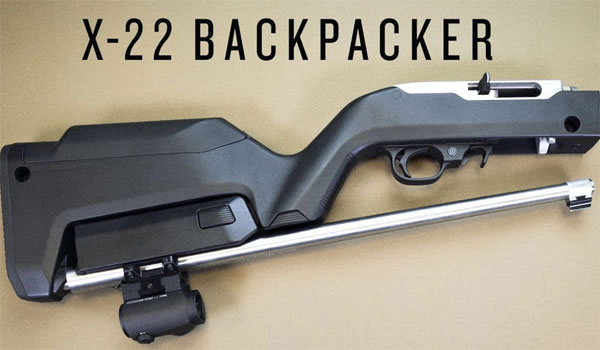 The 10/22 was the very first firearm I ever shot as a child. Today I proudly own one as part of my extensive firearms collection and if I had to make the hard decision to leave the rest of them behind in an emergency, I think I'd probably end up sticking with a Ruger 10/22. The one pictured above is a takedown model fitted with an X-22 Backpacker stock. The Takedown model is able to be disassembled and reassembled in a flash and the stock featured above can hold spare 10-round rotary magazines.
Triggers tend to be okay at best on stock Ruger 10/22 rifles and mounting optics on the stock rifle can be a pain if it doesn't come with a weaver or Picatinny rail. The Ruger 10/22 equipped with a Magpul backpacker stock will set you back just $639.00
Pros:
Lightweight and easily disassembled to fit inside a backpack
Cons:
Requires Reassembly to fire, Hard to mount optics
Bottom Line:
Great for hunting small game, and plinking
Where to Buy:
Find the
Ruger 10/22 for sale
on Guns International.
2. The Henry AR-7 US Survival Rifle - Budget Pick
This is probably the gun that started it all for the rimfire survival market. The AR-7 was originally made by the Armalite company (hence its naming) and was eventually picked up by Henry Repeating Arms and subsequently changed a bit in design. The AR-7 features a floating stock which houses the receiver, two spare magazines, one seated magazine and the barrel assembly. The rifle is easily taken down and put back together and at short distances can be incredibly accurate despite the rear sight and front sight being on two different pieces.
While it's not the most robust firearm nor is it the prettiest, the gun will in fact float in water meaning you won't accidentally lose it but in my experience it's probably best saving that feature for a true emergency. The Henry AR-7 US Survival rifle costs just $318.99.
Pros:
Floats, is inexpensive and collapses into the size of the stock
Cons:
Accuracy is dubious at greater distances and there is no clean cut method of mounting an optic
Bottom Line:
A true survival rifle that excels at being compact and durable in the wild
Where to Buy:
Find
Henry Rifles for sale
on Guns International.
3. Volquartsen Ultralight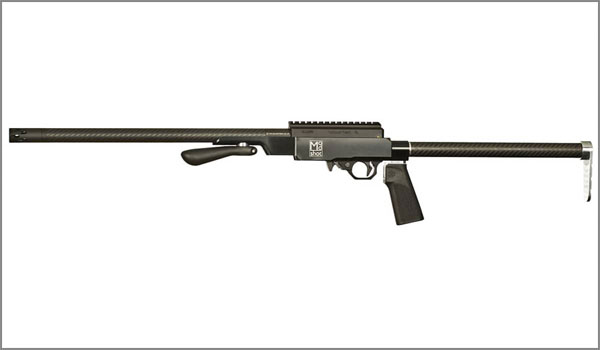 The Volquartsen ultralight takes a few things seriously: Accuracy and its Lightweight design. While it normally comes with a laminated wood stock, the one pictured above is equipped with a Modshot stock and forend, which brings its total weight down to just 3 pounds and 13 ounces. While it can't be disassembled to fit inside a backpack, I think you'd have no trouble slinging this over your back for long treks to your next location.
The rifle comes standard with a picatinny rail, removable forward blow compensator that can be swapped out for a suppressor and the option to mount a C-More sight at a very low position on the receiver, this rifle makes for a great close range shooter that is light as a feather. The Volquartsen Ultralight is available in 22LR and costs $1579.99.
Pros:
Ultra lightweight and optics ready out of the box
Cons:
Expensive and probably not as durable as other models of rimfire rifle
Bottom Line:
If you're concerned about weight, this rifle is probably your best option
Where to Buy:
Find
Volquartsen Firearms for sale
on Guns International.
4. Savage Arms Model 42 Takedown - Combo Pick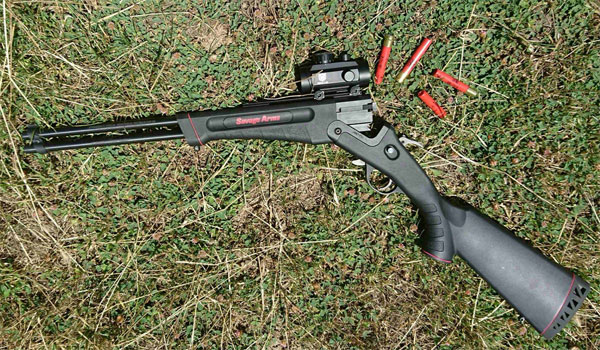 What this rifle lacks in style it more than makes up for in weight and power. The Savage Arms Model 24 sports not only a 22LR barrel (which is why it's able to make this list) but also a .410 bore barrel underneath. This not only gives you greater close range defensive capability but also expands the list of games you can reliably expect to hunt in a survival situation.
The synthetic stock gives the Model 42 all-weather durability, and its takedown capability means it's easier to stow. Best of all, the shotgun/rifle combo comes equipped with a bugout bag that can hold spare ammunition and can easily be slung over the back for efficient carrying. The Savage Model 42 costs $549.00.
Pros:
Multiple Calibers and Easily broken down for transport and very affordable
Cons:
Single shot only
Bottom Line:
Take this one with you if you're looking for a rimfire rifle that has a little backup to call in when you're faced with unexpected situations
Where to Buy:
Find
Savage Rifles for sale
on Guns International.
5. Kel-Tec CMR-30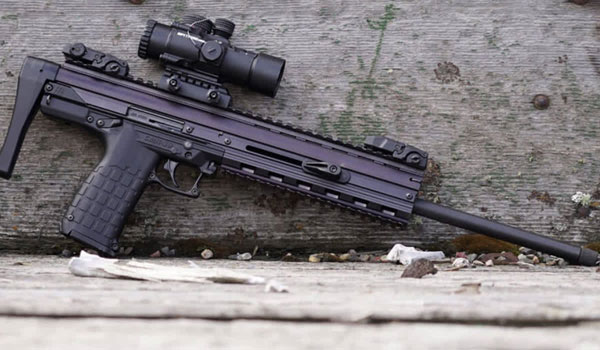 The CMR-30 packs a punch because of its 22 Magnum chambering but it also has a lot of other features that make it worthy as a competent survival rimfire gun. The Rifle features a telescoping retractable stock which makes it much more compact, and the CMR-30 can be fired from both the extended stock position or the collapsed position making it more versatile in an emergency situation. The generous picatinny rail space also means you have plenty of room for mounting optics, lights and vertical foregrips if that is your style.
The gun is also incredibly lightweight at just 4.2 lbs. and features a full sized 30+1 magazine capacity. If I 22 WMR will bag you slightly larger game or extend your lethal range out just a bit further than standard 22LR but still allows you to use a lightweight rig, so it doesn't weigh you down with the rest of your gear. The Kel-Tec CMR-30 is available for $609.99.
Pros:
Lightweight, Powerful rimfire cartridge, Accessory Ready and Large Magazine Capacity
Cons:
Can't be broken down or folded to fit inside a backpack
Bottom Line:
A capable yet lightweight package for survival that won't break the bank
Where to Buy:
Find
Kel-Tec Rifles for sale
on Guns International.
FAQ About .22s
Hunting with a .22
22LR is perfectly lethal enough to make humane kills on the following animals: Squirrels, Rabbits, rats, coyotes, racoons, and several species of small bird up to perhaps a turkey.
While the 22LR cartridge is capable of putting down a deer with decreased range and immaculate shot placement, I wouldn't personally recommend it as you'd more likely just wound the animal and have it run off and die at a later time rather than end up with a quick meal.
Self-defense with a .22
22LR in some cases can be a good option for carrying. However, due to its limited amount of energy and relatively light bullet weight the cartridge is understandably passed up for much larger calibers for self defense situations.
The 22LR is indeed lethal to both human and animal threats but shot placement will be key and in a survival situation it is best to keep the rimfire stuff for animals and carry a small centerfire handgun for threats from humans.
.22 ammunition shelf life
This is a good question to ask yourself if you're stockpiling ammunition for the apocalypse. Theoretically Rimfire Ammunition like all ammunition should last indefinitely if it is properly stored and sealed. Rimfire ammunition, especially 22lr, isn't crimped as tightly as other copper jacketed bullets so you end up with more dud rounds of 22LR than anything else but luckily, 22LR is still relatively cheap and most people aren't relying on the cartridge for self-defense.
Is a .22 rimfire good for survival?
The .22 serves a purpose in any survival situation, as well as just life in general. It makes a great small-game hunting caliber, and can work in a pinch for defensive purposes, too.
What is the best caliber for a survival gun?
The reason we made this list of rimfire survival rifles is due to the fact that .22LR ammunition is usually readily available and inexpensive. Most of us have a supply on hand, and obtaining a stockpile is relatively easy and inexpensive. A .22 rimfire can serve well in survival situations, too.
Find Survival & Camping Rifles for sale at Guns International.