Sorry! You're too late.
The Alexander Henry 2 Barrel Set 410 Gauge & .300 Sherwood GI# 101008291 has been sold.
Click
here
to see what else is available by Hi Grade Euro Guns.
View other listings in this category....
Alexander Henry Shotguns
INCORPARATED FROM ALEXANDER HENRY 27 7/8" BARRELS .025 AND .034 ORIGINALLY PROOFED 2 1/2" CHAMBERS REPROOFED TO 2 3/4" (16-70) CHAMBERS DOUBLE TRIGGER EJECTORS SPLINTER FO
...Click for more info
Seller: Steve Barnett Fine Guns
Area Code: 662
$13,950.00

Boxlocks - Completed in 1891 this little 16 while showing her age is still extremely attractive and tight on face. The gun features double sears and ejectors which for this period was quite upscale.
...Click for more info
Seller: Vintage Doubles
Area Code: 509
$2,200.00

Boxlocks - Great dimensions and barrels . This gun is very tight on face. *** Note: To see this gun with high resolution photos and a zoom-in feature, go to the vintagedoubles main site and search for
...Click for more info
Seller: Vintage Doubles
Area Code: 509
$2,400.00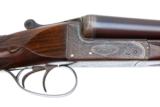 INCORPARATED FROM ALEXANDER HENRY 27" BARRELS 004 AND 008 2 1/2" CHAMBERS DOUBLE TRIGGER EJECTORS SPLINTER FOREARM ENGLISH GRIP EXCELLENT CONDITION MAKERS CASE 6LBS 1 OZ X 2 1/4 X 1 1/
...Click for more info
Seller: Steve Barnett Fine Guns
Area Code: 662
$7,250.00