Sorry! You're too late.
The F. Dumoulin & Co 12 Ga SxS GI# 101616209 has been sold.
Click
here
to see what else is available by IRON COWBOY GUN SHOP.
View other listings in this category....
Dumoulin Shotguns

F. Dumoulin 16Ga. SxS Shotgun. SN #68450. Mfg. in Liege, Belgium. LOP 14 5/8" & 13 5/8". 2 3/4" chamber. DAC 1 3/8"- DAH 2 1/2". 27 1/2" barrels with excellent bores.
...Click for more info
Seller: Shooters Exchange
Area Code: 828
$2295.00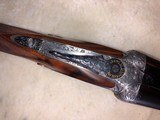 Ernest Dumoulin Custom Leigh, 20ga 28" IC/MOD. Beautifully Engraved by Jean-Marie Smets (Belgium Guild) High Grade Wood - Prince of Wales grip with extended trigger guard wi
...Click for more info
Seller: natimage
Area Code: 831
$22,995.00 Reduced to $21,995.00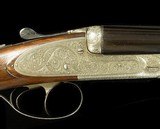 Dumoulin 16 Gauge Liege with 27 inch barrels with raised rib. Double trigger, single bead sight, with a beautiful straight stock. Very nice floral and scroll patterns with engraver's name (Leonard
...Click for more info
Seller: FINEFIREARMS
Area Code: 800
$13,500.00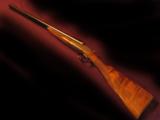 Stunning floral engraving by Rouffin on this high condition ejector gun from one of Europe's leading gunmakers. Rounded action body, non-auto safety, hidden third, bushed strikers, Jurjevik single tr
...Click for more info
Seller: doublegunhq
Area Code: 325
$6,950.00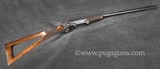 Seller: Puglisi Gun Emporium
Area Code: 218
$1,295.00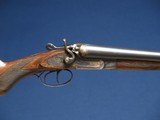 Dumoulin hammer sidelock 12ga. 30 inch IC & Full. .008 & .040. 2 3/4 chambers. 90% case coloring. 95% blue. Greener crossbolt. Nice and tight. 14 3/8 LOP butt plate. Excellent bores.
...Click for more info
Seller: Crosnoe Guns
Area Code: 573
$1,495.00