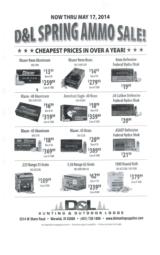 BLAZER .45 RANGE AMMO $369.99 / $389.99 PER 1000 ROUNDS NEW!!!
Guns International #: 100442928 Seller's Inventory #:
Category: Ammo - American Handgun -

Seller's Information
When emailing or calling sellers direct, please mention that you saw their listing on GunsInternational.com



Seller: D&L HUNTING
Company: D&L HUNTING & OUTDOOR LODGE
Member Since: 10/28/11
State: Rhode Island
Country: United States
Phone: 401-738-1889
Fax: 401-738-9912
Platinum Seller
Number of Active Listings: 291
Total Number of Listings: 4376
Seller: FFL Dealer
Return Policy: 3 day inspection and return policy on used guns.
No return of new items. Any defect must be returned to manufacturer for warranty.
Payment Types Accepted: All Major Credit Cards


Description:


RECEIVED IN BLAZER ALUMINUM AND BLAZER BRASS 230 GR AMMO PRICED PER 1000 ROUNDS. NO SALES TAX CHEAP SHIPPING. LIMITED SUPPLIES

SKU'S 3570, 5230

CALL STORE TO ORDER 401-738-1889



Price: $369.99 AL. / $389.99 BR.