Sorry! You're too late.
The PUMA, PuMaster Echter Stahl GI# 101441723 has been sold.
Click
here
to see what else is available by Rick RK.
View other listings in this category....
Knives - Puma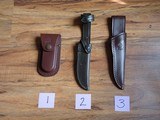 1. PUMA Brown Belt Pouch for folding knives (4" folder) $33.49 + $5 shipping 2. PUMA German Replacement Gree
...Click for more info
Seller: SORIN
Area Code: 503
See Description

Puma buddy knife, used but all there with proper sheath, all markings clear/legible. This is a highly sought after piece with stag handles. Very collectible. Add 15. For shipping.
...Click for more info
Seller: Kep
Area Code: 828
$350.00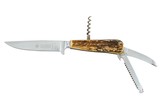 Fixed Blade 4 1/2" 9" Overall Finger Guard Stag Handle with Cork Screw SAW and 2 1/2" Curved Blade with Blunt End (Gut Blade?) Leather Sheath FREE SHIPPING EXCELLENT CO
...Click for more info
Seller: Steve Barnett Fine Guns
Area Code: 662
$650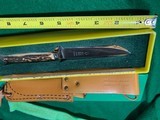 Puma Knife - brand new, never used. $290.00 plus shipping. For more information call Rick at 973-478-5066.
...Click for more info
Seller: Rick RK
Area Code: 973
$290.00