Reloading Components - Primers
Reloading Components - Primers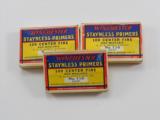 There is 100 primers in each box. These primer boxes are from the late 1940's The blue yellow and red boxes are still sealed. I have four that are in nice condition. Two that have tape on the
...Click for more info
Seller: HLV Fine Guns
Area Code: 928
$30.00 Each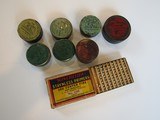 The six vintage center fire winchester repeating arms percussion caps cans are full , but one is empty. Five are J. GOLDMARKS AND HAVE 100 in each , one has 250 in it and is dated 1876 pat
...Click for more info
Seller: gdog2693
Area Code: 859
$115.00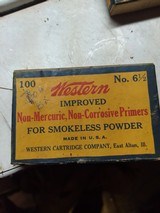 I have 2 boxes of 100. Yellow and navy blue box. Very good condition. Factory sealed. One sold brand new for 70 cents per box.
...Click for more info
Seller: Strychninewolf
Area Code: 520
35.00 each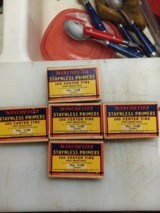 No. 108. 5 boxes, all factory sealed as if they came off the shelf. Will sell separate or all at once.
...Click for more info
Seller: Strychninewolf
Area Code: 520
$30.00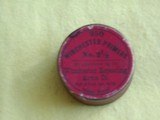 Here's another vintage Winchester item from the R&R 60 year old Gun Collection. It's a tin of Winchester No. 2&1/2 primers and these are so hard to find and make a great gun room decoration pi
...Click for more info
Seller: R&R Winchester Collection
Area Code: 505
$99.00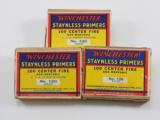 These primers are in the sealed 100 count package. The blue yellow and red box dates from the late 1940's. I have three boxes. Two are fully sealed one is unsealed. These primer boxes are great fo
...Click for more info
Seller: HLV Fine Guns
Area Code: 928
$30.00 Each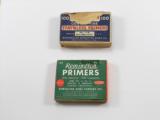 The Winchester Sealed box of number 116 primers is from the 1930's. It has some graphics loss on the top section. The Remington sealed box of number 2 1/2 Primers is from the 1950's. search fo
...Click for more info
Seller: HLV Fine Guns
Area Code: 928
$30.00 Each
Seller: Puglisi Gun Emporium
Area Code: 218
$90.00
Seller: Puglisi Gun Emporium
Area Code: 218
$75.00
Seller: Puglisi Gun Emporium
Area Code: 218
$90.00
Seller: Puglisi Gun Emporium
Area Code: 218
$100.00