Sorry! You're too late.
The LUGER ARTILLERY WOODEN STOCK, VERY OLD BUT IT WAS NEVER INSTALLED GI# 101551849 has been sold.
Click
here
to see what else is available by Dimitri Tolchinski.
View other listings in this category....
Featured Gun Classifieds Stocks & Braces - Pistol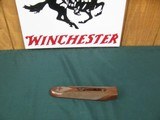 6917 Winchester Model 23 Grand Canadian forend for 20 gauge and will FIT any other model 23 that is 20 gauge, NEW OLD STOCK,, NOT A A MARK ON IT.
...Click for more info
Seller: dawsonsdoubles
Area Code: 210
$125.00
Stocks & Braces - Pistol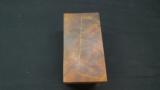 Seller: Bass Pro Shops Springfield
Area Code: 417
$100.00

#JUST REDUCED FOR QUICK SALE! BrandCommand Arms CategoryConversion Kits ModelMCK Stock FinishBlack Slide FinishGray Capacity17+1 Stock MaterialSynthetic Barrel FinishBlack Search CodeCAA T
...Click for more info
Seller: FRAZERS
Area Code: 763
$185.00 plus $15.00S&H ALL C/C ACCEPTED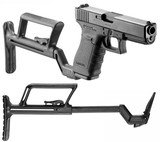 Glock Stock 4 position collapsible Fit all Glock models except sub-compacts (handle slot is too narrow) Black polymer Made in Israel, New . Legal to own around US But actual instal
...Click for more info
Seller: parabellum
Area Code: 850
$67.00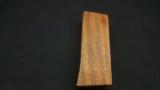 Seller: Bass Pro Shops Springfield
Area Code: 417
$100.00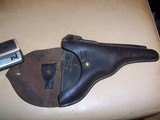 PORTUGESE LUGER HOLSTER MODEL 1906 M2 GOOD USABLE CONDIYION MARKED AE ON BACK ,, GOOD SOLID CONDITION ALL ORIGINAL has repo cleaning
...Click for more info
Seller: BGSUBMARINE
Area Code: 386
$156 + sh

Mauser C96/M712 Schnellfeuer 20 rnd mag Pistol Shoulder-Stock. * Beautifully manufactured Shoulder-Stock for M712/C96 Mauser Pistol. * European Walnut * Wood grain & colour may vary slightly. An extre
...Click for more info
Seller: CMR Classic Firearms
Area Code:
$350.00+ H&S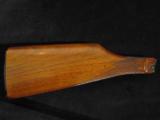 DWM Luger Carbine Model 1902 Chequered Walnut shoulder stock with blued attaching iron and strawed lever. Unumbered stock with buttplate. New item. For further details Google our :- CMR CLASSIC FIR
...Click for more info
Seller: CMR Classic Firearms
Area Code:
750.00 + H&S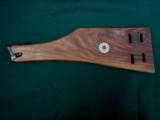 1906-1916 WW1 Imperial German Navy Luger walnut Flat-board with Imperial Marked German Navy Proof Marks to brass disc and board. Complete with blued stock iron and strawed locking l
...Click for more info
Seller: CMR Classic Firearms
Area Code:
250.00 + S&H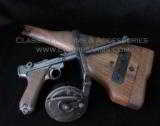 For the advanced Luger Collector. A fine example of an extremely rare 1913 pre-production (style) prototype Artillery Luger Shoulder Stock. Made from solid German Walnut wood. This highly unus
...Click for more info
Seller: CMR Classic Firearms
Area Code:
$995.00

A high grade Artillery Luger Walnut shoulder stock with blued steel attaching iron & Strawed Locking lever all made exactly as per the original issues These beautifully made Artillery Lug
...Click for more info
Seller: CMR Classic Firearms
Area Code:
$179.00