Sorry! You're too late.
The SMITH & WESSON MODEL 52-1 .38 MRWC PISTOL IN BOX (INVENTORY#10071) GI# 101118377 has been sold.
Click
here
to see what else is available by Mike Bishop LLC.
View other listings in this category....
Featured Gun Classifieds Smith & Wesson Pistols - Model 52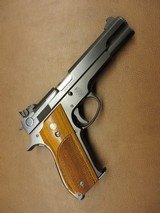 .38 Special Mid Range Wadcutter has 5 inch barrel with adjustable sights. Serial number 52xxx. Checkered walnut grips. One factory magazine. All in 95%+ condition.
...Click for more info
Seller: Bromley's Gun Shop
Area Code: 641
$1499.00
Smith & Wesson Pistols - Model 52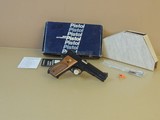 SMITH & WESSON MODEL 52-2 .38 MID RANGE PISTOL IN BOX, 5" BARREL WITH MINT BORE, 99% CONDITION IN THE BOX WITH EXTRAS AS SHOWN $1950 ******* (PLEASE REFERENCE OUR INVENTORY NUMBER)
...Click for more info
Seller: Mike Bishop LLC
Area Code: 229
$1,950.00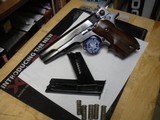 S&W Model 52-2 mfg 1971-1992 in .38 SWC or .38 Auto Mid-Range which is what is stamped on the back of the barrel. Adjustable rear sight fixed front sight Walnut finger grooved grips.&n
...Click for more info
Seller: bigodaddy01
Area Code: 512
$1250.00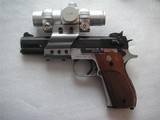 SEE THE PICTURES OF THIS BEAUTIFUL AND RARE SMITH & WESSON/AMT PROTOTYPE MODEL 52 CALIBER .38 S/W Wadcutter IN EXCELLENT ORIGINAL CONDITION WITH THE RED DOT SCOP AND 2 MAGAZINES. AFTER 1963
...Click for more info
Seller: Dimitri Tolchinski
Area Code: 860
$1,195, PLUS $45 FOR SHIPPING/INSURANCE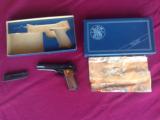 COMES WITH BOTH MAGAZINES. I PROVIDE 7 DAY INSP. I CAN PROVIDE REFERENCES ON GUN SALES. &nbsp
...Click for more info
Seller: Jerry
Area Code: 260
$1,995(SOLD)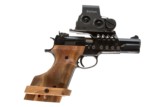 Seller: Steve Barnett Fine Guns
Area Code: 662
$1,395.00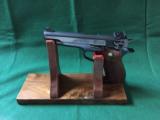 Early model of the Smith and Wesson Model 52 by the serial number. Only manufactured from 1961 to 1963, and only 3,500 manufactured. It is not the later 52-1 or 52-2. Comes with Barr
...Click for more info
Seller: Patak-Phillips
Area Code: 845
$1499.99