Sorry! You're too late.
The Bernardelli Model 80 ~ .380 ACP GI# 100885344 has been sold.
Click
here
to see what else is available by Cabelas West Chester.
View other listings in this category....
Bernardelli Pistols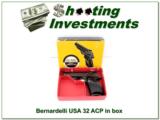 Collectors, this is a rare chance to own a Bernardelli 60 in 32 caliber. It comes in excellent condition in original box with serial number 930! You likely won't find a nicer one. I am selling t
...Click for more info
Seller: barrybrowning
Area Code: 919
$399.00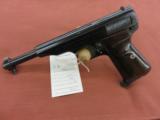 Bernardelli Sporter Model Target Pistol, 22LR, 6" barrel, appears to be made in the 1950's, wooden finger groove grips, a screw on the front sight band that is used to take the barrel off, fi
...Click for more info
Seller: Schultheis Sporting Goods
Area Code: 607
350.00 + 35.00 shipping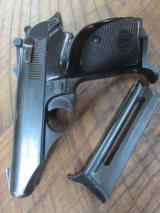 Bernadelli model 80 semi auto pistol chambered in .22 LR. The barrel measures out to approximately 3 1/2" in length overall. Condition is used with some finish wear. The bore is clean with distin
...Click for more info
Seller: mmriflemakers
Area Code: 828
$429.00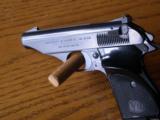 Made in Gardone V.T. Italy, on slide, and 100% original condition, 10 shot magazine, this slide pulls back with very little effort, high quality pistol made in eighties, and imported by Ma
...Click for more info
Seller: Jacobsburg Guns
Area Code: 610
$495.00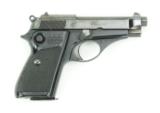 Bernardelli 80 .380 ACP Caliber Pistol. Italian pocket auto. Dated 1980. Excellent condition.
...Click for more info
Seller: Collectors Firearms
Area Code: 713
$425.00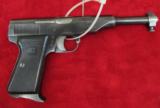 Very Good condition Bernadelli Semi - Auto .32 Auto with fixed sights and 4 1/2" barrel. Made in 1952. 4% Credit Card Fee $30.00 Shipping FFL required for shipping; All items shipp
...Click for more info
Seller: moby
Area Code: 540
$450.00