Sorry! You're too late.
The CIVILIAN MODEL 1905 U.S. MARINE CORPS .38DA REVOLVER. GI# 101014744 has been sold.
Click
here
to see what else is available by goodmanguns.
View other listings in this category....
Colt Pistols - 1905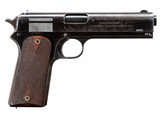 Presented for you today is an original Colt Model 1905 45 Automatic Pistol. Carrying serial number 4300, this predecessor to the Model 1911 is an iconic representative in the lineage of American servi
...Click for more info
Seller: Turnbull Restoration Co., Inc.
Area Code: 585
$5,000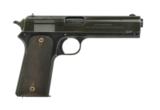 Colt 1905 .45 Auto caliber pistol. Manufactured approximately 1910. Excellent bore. Frame has very good blue. The slide is a blue and patina mix. Grips are excellent. Action works perfectly. Fine cond
...Click for more info
Seller: Collectors Firearms
Area Code: 713
4,975.00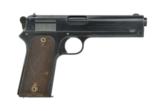 Colt 1905 .45 Auto caliber pistol. Factory fitted for detachable shoulder stock (stock not included). Bore is very good. Action works perfectly. Gun has approximately 92-93% blue. Grips are very good
...Click for more info
Seller: Collectors Firearms
Area Code: 713
8,500.00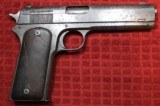 Got a Colt 1905 .45 Rimless Caliber Pistol (45ACP) with one magazine for sale. We tried to get pictures of every maker's mark, logo, stamp, cartouche and whatever we could find.&nbsp
...Click for more info
Seller: P&T PARTNERS
Area Code: 972
$2965.00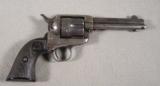 This Colt S.A. is 38-40 caliber has a 4.75" barrel. This Colt was shipped to Simmons Hardware Company August 1905 and was one of 80. The mechanical function is very crisp and has a very go
...Click for more info
Seller: 1898ANDB-4
Area Code: 707
$3,195.00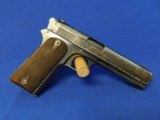 Albert Peterson Guns is currently seeking consignments. No collection too small or big! No firearm too expensive or too cheap! We consign all of them! 13% flat fee for No Reser
...Click for more info
Seller: AlbertPetersonGuns
Area Code: 513
$5499.99 + Shipping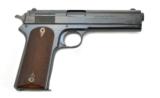 Colt 1905 .45 Auto caliber pistol. Very fine model 1905. Excellent bore, action works perfectly. Frame has 95-97% strong blue. Slide has 90-93% blue and is lightly fading. Grips are excellent with sha
...Click for more info
Seller: Collectors Firearms
Area Code: 713
7,450.00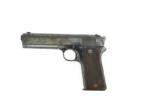 Colt 1905 .45 Auto caliber pistol. Made in 1908. Very fine gun with 70% of the original finish. Very good grips that show a little wear. Case colors remain on the hammer. Very Important gun in the evo
...Click for more info
Seller: Collectors Firearms
Area Code: 713
4,750.00