Sorry! You're too late.
The Marbles Folding Hunting Knife with Original Sheath GI# 100460710 has been sold.
Click
here
to see what else is available by Pat McKune.
View other listings in this category....
Marble's Game Getter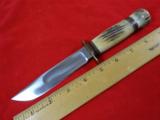 MARBLES IDEAL HUNTING KNIFE, 5", FULL STAG, PRE-WW $375.00 + $10.00 Insured priority to a US address. See all Pats listings We also have hundreds of pieces of ORIGINAL gun company advertis
...Click for more info
Seller: Pat McKune
Area Code: 218
$375.00

Marble Arms Game Getter .22/410 caliber shotgun. Scarce and desirable Game Getter .22/410 with 18" barrels. This is fully legal, no Class III papers required. Has about 80% thinning blue mixed w
...Click for more info
Seller: Collectors Firearms
Area Code: 713
2,750.00

Marble Arms & Mfg Co Game Getter 1921 .410 Ga/.22 LR caliber rifle. Scarce Game Getter with holster. Excellent bores, 18"" barrels. Totally ATF legal length. 2nd type with nickeled folding stock.
...Click for more info
Seller: Collectors Firearms
Area Code: 713
2,995.00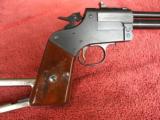 MARBLES, GAME GETTER, MODEL 1921, 18" BARRELS, MARKED "UPPER BARREL 22 S.L. LR & NRA & LOWER BARREL 410GA 2 1/2". 100% BLUE, MIRROR BORES. STRONG CASE COLOR ON
...Click for more info
Seller: Pat McKune
Area Code: 218
$2950.00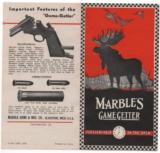 MARBLES GAME GETTER BROCHURE, 3 1/4" X 6 1/4", BI FOLD. DATED 1938, DEALS ONLY WITH THE MODEL 1921 GUN AND ACCESSORIES. MINT CONDITION, VERY SCARCE. $175.00 + $5.00 towar
...Click for more info
Seller: Pat McKune
Area Code: 218
$175.00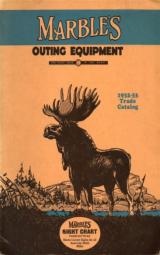 MARBLES CATALOG, 1932-33 TRADE, 8 1/2" X 11", 22 PAGES. FULLY ILLUSTRATED SHOWN ENTIRE PRODUCT LINE, ALSO DEALER OR STORE PROMOTIONAL ADVERTISING ITEMS. LAST CATALOG TO SHOW THE
...Click for more info
Seller: Pat McKune
Area Code: 218
$175.00