Sorry! You're too late.
The Marbles Game Getter Model 1921 mint with original holster GI# 100420761 has been sold.
Click
here
to see what else is available by Pat McKune.
View other listings in this category....
Marble's Game Getter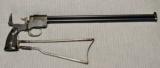 UP FOR YOUR CONSIDERATION IS A MARBLE'S 1908 GAME GETTER IN 22 LR 44 GG C&R OK. MARBLE'S GAME GETTER COMBO GUN WITH AN APPROXIMATELY 18" BARREL. TOP RIFLED BARREL WILL SHOOT .22
...Click for more info
Seller: Gungho67
Area Code: 207
$2,150.00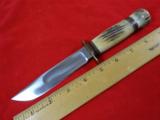 MARBLES IDEAL HUNTING KNIFE, 5", FULL STAG, PRE-WW $375.00 + $10.00 Insured priority to a US address. See all Pats listings We also have hundreds of pieces of ORIGINAL gun company advertis
...Click for more info
Seller: Pat McKune
Area Code: 218
$375.00

Marble Arms Game Getter .22/410 caliber shotgun. Scarce and desirable Game Getter .22/410 with 18" barrels. This is fully legal, no Class III papers required. Has about 80% thinning blue mixed w
...Click for more info
Seller: Collectors Firearms
Area Code: 713
2,750.00

Marble Arms & Mfg Co Game Getter 1921 .410 Ga/.22 LR caliber rifle. Scarce Game Getter with holster. Excellent bores, 18"" barrels. Totally ATF legal length. 2nd type with nickeled folding stock.
...Click for more info
Seller: Collectors Firearms
Area Code: 713
2,995.00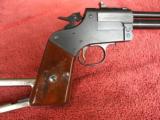 MARBLES, GAME GETTER, MODEL 1921, 18" BARRELS, MARKED "UPPER BARREL 22 S.L. LR & NRA & LOWER BARREL 410GA 2 1/2". 100% BLUE, MIRROR BORES. STRONG CASE COLOR ON
...Click for more info
Seller: Pat McKune
Area Code: 218
$2950.00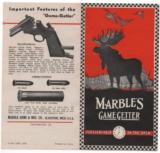 MARBLES GAME GETTER BROCHURE, 3 1/4" X 6 1/4", BI FOLD. DATED 1938, DEALS ONLY WITH THE MODEL 1921 GUN AND ACCESSORIES. MINT CONDITION, VERY SCARCE. $175.00 + $5.00 towar
...Click for more info
Seller: Pat McKune
Area Code: 218
$175.00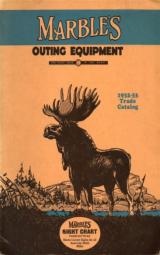 MARBLES CATALOG, 1932-33 TRADE, 8 1/2" X 11", 22 PAGES. FULLY ILLUSTRATED SHOWN ENTIRE PRODUCT LINE, ALSO DEALER OR STORE PROMOTIONAL ADVERTISING ITEMS. LAST CATALOG TO SHOW THE
...Click for more info
Seller: Pat McKune
Area Code: 218
$175.00