Muzzleloading Pistols - Modern & Replica Flint
Muzzleloading Pistols - Modern & Replica Flint

This .40 caliber Kentucky style pistol has a browned octagon 3/4" x 10-1/2" barrel that is fitted with fixed sights. The bore is very good. The Maple stock, embellished with carv
...Click for more info
Seller: The Gun Works
Area Code: 541
$625.00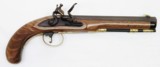 This .54 caliber Kentucky pistol has a browned octagon 15/16" x 9" Oregon Barrel Co barrel with 1:20 twist that is fitted with fixed sights. The bore is very go
...Click for more info
Seller: The Gun Works
Area Code: 541
$750.00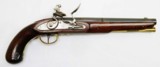 This 58 caliber/24 gauge Trade pistol has a tapered octagon to 16 flats to Wedding Band to round 1" to 3/4" x 10" blued smooth bore barrel with a German silver front sight. Th
...Click for more info
Seller: The Gun Works
Area Code: 541
$750.00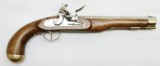 This .50 caliber Pirate pistol has a highly polished tapered octagon to round 7/8" to 3/4" x 10" barrel with 1:20 twist that is fitted with fixed sights. The bore is very
...Click for more info
Seller: The Gun Works
Area Code: 541
$350.00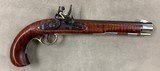 This is an absolutely wonderful custom replica Kentucky Flintlock .40 Caliber Pistol, with very well executed German Silver fittings, Blued Octagon Barrel, very fine fiddleback maple stock, etc. &nbsp
...Click for more info
Seller: Ocala Armory
Area Code: 352
$1,295.00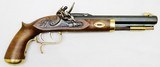 This .50 caliber Trapper pistol has a blued octagon 7/8" x 9-3/4" barrel with 1:20 twist that is fitted with an adjustable rear sight. The bore is very good. The P grade
...Click for more info
Seller: The Gun Works
Area Code: 541
$295.00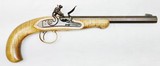 This .40 caliber English style pistol has a browned octagon 13/16" x 10" Oregon Barrel Co barrel with a 1:20 twist that is fitted with fixed sights. The bore is in v
...Click for more info
Seller: The Gun Works
Area Code: 541
$875.00

This .40 caliber English style pistol has a browned octagon 13/16" x 10" Oregon Barrel Co barrel with a 1:20 twist that is fitted with fixed sights. The bore is in p
...Click for more info
Seller: The Gun Works
Area Code: 541
$695.00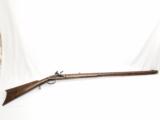 This .36 caliber Virginia rifle has a P+++ grade Maple stock and an Oregon Barrel Co 3/4" x 37" browned barrel with 1:48 twist. It is fitted with iron furniture. The Smal
...Click for more info
Seller: The Gun Works
Area Code: 541
1,575.00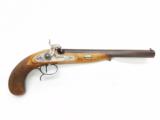 Condition: Very good - in box. Manufactured by: Waffenschmiede im Zeughaus Uberlingen, Germany Pieces: 1 Stock: European Walnut Barrel Length: 9-1/2in Caliber:
...Click for more info
Seller: The Gun Works
Area Code: 541
$1,250.00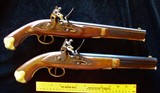 From a mid-west sale, a pair of reproduction flintlock pistols appox. 58 cal. (what I can see of the bores looks good). The wood is excellent with no cracks, chips or deep scratches however the g
...Click for more info
Seller: tlriver
Area Code: 816
$649.99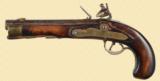 45 Cal; Good bore, good stock, 7.25'' barrel, Custom handmade/assembled flintlock pistol, brass mounted in a birchwood stock with ocatgon barrel having fixed sights. A name "BLACK" i
...Click for more info
Seller: Simpson Ltd
Area Code: 309
$225.00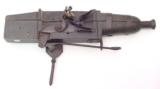 Flintlock Spring Gun. Used against poachers and grave robbers. See Firearms Curios by Winant. This is a classic oddity trap gun. Ex. Hary Mann Collection.
...Click for more info
Seller: Collectors Firearms
Area Code: 713
3,500.00