Muzzleloading Pistols - Modern & Replica Flint
Muzzleloading Pistols - Modern & Replica Flint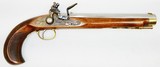 This .45 caliber Kentucky pistol has a highly polished 7/8" x 9-3/4" smooth bore barrel that is fitted with fixed sights. The bore is very good - clea
...Click for more info
Seller: The Gun Works
Area Code: 541
$300.00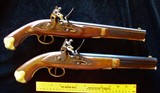 From a mid-west sale, a pair of reproduction flintlock pistols appox. 58 cal. (what I can see of the bores looks good). The wood is excellent with no cracks, chips or deep scratches however the g
...Click for more info
Seller: tlriver
Area Code: 816
$649.99

This .45 caliber English style pistol has a browned octagon 13/16" x 10" Oregon Barrel Co barrel with a 1:20 twist that is fitted with fixed sights. The bore is in p
...Click for more info
Seller: The Gun Works
Area Code: 541
$695.00
This .40 caliber English style pistol has a browned octagon 13/16" x 10" Oregon Barrel Co barrel with a 1:20 twist that is fitted with fixed sights. The bore is in v
...Click for more info
Seller: The Gun Works
Area Code: 541
$875.00
I made this rifle in the summer of 2018. It essentially depicts a York/Adams Cty. rifle of ca. 1800-1810, or so. The barrel is .45 rifled, 42" long and swamped. The lock is by L
...Click for more info
Seller: UDAB
Area Code: 218
$1,700.00

This .40 caliber English style pistol has a browned octagon 13/16" x 10" Oregon Barrel Co barrel with a 1:20 twist that is fitted with fixed sights. The bore is in p
...Click for more info
Seller: The Gun Works
Area Code: 541
$695.00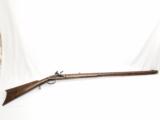 This .36 caliber Virginia rifle has a P+++ grade Maple stock and an Oregon Barrel Co 3/4" x 37" browned barrel with 1:48 twist. It is fitted with iron furniture. The Smal
...Click for more info
Seller: The Gun Works
Area Code: 541
1,575.00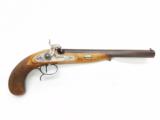 Condition: Very good - in box. Manufactured by: Waffenschmiede im Zeughaus Uberlingen, Germany Pieces: 1 Stock: European Walnut Barrel Length: 9-1/2in Caliber:
...Click for more info
Seller: The Gun Works
Area Code: 541
$1,250.00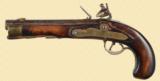 45 Cal; Good bore, good stock, 7.25'' barrel, Custom handmade/assembled flintlock pistol, brass mounted in a birchwood stock with ocatgon barrel having fixed sights. A name "BLACK" i
...Click for more info
Seller: Simpson Ltd
Area Code: 309
$225.00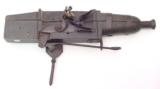 Flintlock Spring Gun. Used against poachers and grave robbers. See Firearms Curios by Winant. This is a classic oddity trap gun. Ex. Hary Mann Collection.
...Click for more info
Seller: Collectors Firearms
Area Code: 713
3,500.00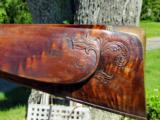 For sale is a Christian's Spring influenced longrifle made by Edward Wenger. The 38" Colerain swamped barrel is .54 caliber. The bore is excellent, bright and shiny. The early Germanic loc
...Click for more info
Seller: hkarl
Area Code: 781
$2,250.00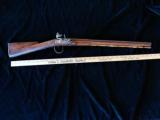 From a mid-west estate sale, a 45 cal. antique miniature boys rifle with a 19" half round half octagon barrel. The walnut full stock is in excellent condition with no cracks or chips (see photos).
...Click for more info
Seller: tlriver
Area Code: 816
$999.99