Sorry! You're too late.
The SIG P238 COMPACT .380 ACP GI# 101510369 has been sold.
Click
here
to see what else is available by Rogers Firearms.
View other listings in this category....
Sig Sauer Pistols - P238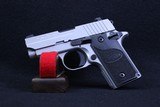 Everyone MUST have a reliable pocket pistol. Not only is it the most convienent method of carry but it's also the most concealed. This .380 is a near perfect design for a secondary carry or a deep con
...Click for more info
Seller: Gun Sport Ltd.
Area Code: 432
$799.95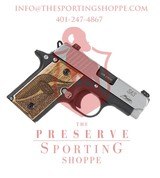 Accessories - 1 Mag Action - Semi-automatic Barrel Length - 2.72" Capacity - 6Rd Finish/Color - Duo Tone Frame/Material - Alloy Caliber - 380ACP Grips/Stock - Wood Manufacturer
...Click for more info
Seller: The Sporting Shoppe
Area Code: 401
$629.99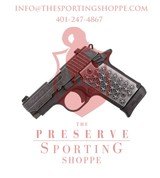 Model: P238 Caliber: 380 Action: Single Action Capacity: 7+1 Finish: Custom Distressed Finish Stock: Custom Aluminum Grips Embossed With 50 Stars Sights: Contrast Sights Barrel: 2.7
...Click for more info
Seller: The Sporting Shoppe
Area Code: 401
$599.99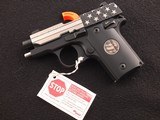 SOLD-SOLD. Very Rare Unfired Limited Edition Sig Sauer P238 "Stand for the National Anthem" .380 acp Semi-Automatic Pistol with factory case, papers, etc. In "New" condi
...Click for more info
Seller: gunsmoke101
Area Code: 505
SOLD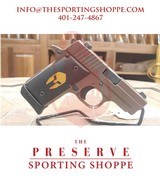 Sig Sauer's pistols are engineered to perform anywhere, at any time, and under any circumstance. They boast unique, advanced features that stand out among the rest. The P238 micro-compact is built to
...Click for more info
Seller: The Sporting Shoppe
Area Code: 401
$799.00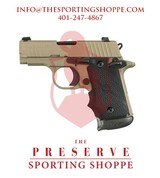 Hogue® Piranha G-10 grips provide an exceptional grip as well as a distinctive appearance. A new ambidextrous safety is standard. It's just a fraction of the size of our full-size pistols. A
...Click for more info
Seller: The Sporting Shoppe
Area Code: 401
$655.00