Smith & Wesson Pistols - Model 52
Smith & Wesson Pistols - Model 52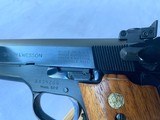 Heres a very nice S&W Model 52 . Gun is in mint condition but has a small blemish spot on bottom of gun . Overal a mint example ! Bore and mechanics are excellent plus condition. Gun has all of it
...Click for more info
Seller: little jo
Area Code: 813
$1,345.00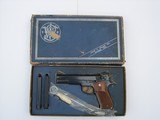 FOR SALE IS A S&W MOD. 52 NO DASH # 53808, IT COMES WITH A BOX, 2 MAGS, BARREL WRENCH, AND CLEANING KIT. THE GUN IS IN 98 1/2- 99% CONDITION THOU THE BOX IS IN POOR SHAPE AS THE PICS TE
...Click for more info
Seller: David Nowak
Area Code: 814
$1500.00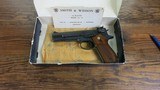 S&W MODEL 52 WITH ORIGINAL BOX. GUN IS IN VERY GOOD CONDITION. USED BUT WELL TAKE CARE OF. BOX IS IN GOOD CONDITION ALSO & MATCHES GUN. CALL OR E-MAIL WITH QUESTIONS;
...Click for more info
Seller: Rogers Firearms
Area Code: 229
$1450.00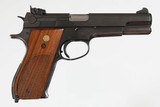 MAKE - SMITH & WESSON MODEL - 52-1 FINISH - BLUED BARREL - 5" CALIBER - 38SPL ( WAD CUTTER ) GRIPS - WOOD CONDITION - EXCELLENT NO BOX STORE HOURS 10AM - 6 PM MON -
...Click for more info
Seller: Classic Firearms
Area Code: 478
$1495.99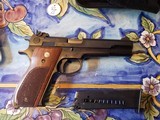 Origional no dash. Purchased new 61 or 62, memory is a little faded. Maybe shot a box of bullets through it when first purchased at Clifton Rod and Gun Clifton, NJ. Both factory clips have been modifi
...Click for more info
Seller: Hunter59
Area Code: 757
$1,750.00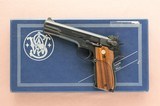 This spectacular Smith & Wesson Model 52-2 was bought new and put into storage, only having been fired a handful of times. It is as minty and beautiful an example as we have seen in a long t
...Click for more info
Seller: Antique & Modern Firearms, Inc.
Area Code: 859
SOLD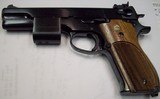 This .38 WADCUTTER is a Smith & Wesson Model 52 With the S&W BARREL WEIGHT. Condition 99.99%. $1500.00. rmgrigolettoyahoo 732 280 8750.
...Click for more info
Seller: Legacy Firearms
Area Code: 732
$1,500.00
1961-62 MODEL 52 IN .38 SPECIAL WADCUTTER IN SINGLE ACTION AND ADJUSTABLE SIGHTS,COME WITH 2 MAGS,SLIGHT BLUING WEAR ON RIGHT SIDE. GREAT BORE,CLEAN GUN!
...Click for more info
Seller: Carolina Sporting Arms
Area Code: 704
$1,800.00
Smith and Wesson Model 52-2 with ammo. This pistol is in 38 special-*Wadcutter. The pistol is in 99% condition and comes with the ammo pictured. Shipping insured $59.00 Firm. Email contact only.
...Click for more info
Seller: Stockjocky
Area Code: 719
$1,475.00
Smith and Wesson model 52-2 .38 midrange wadcutter bullseye pistol with barrel weight set. The pistol is in excellent condition and comes with a bushing wrench and box. This pistol i
...Click for more info
Seller: JRDavis
Area Code: 520
$1,900.00