Sorry! You're too late.
The **1993 Last Year Production** Smith & Wesson Model 52-2 Pistol .38 Special Wadcutter w/ Original Box, Manual, Etc SOLD GI# 101521105 has been sold.
Click
here
to see what else is available by Antique & Modern Firearms, Inc..
View other listings in this category....
Smith & Wesson Pistols - Model 52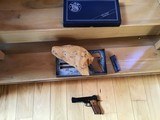 I PROVIDE 7 DAY INSP. I CAN PROVIDE REFERENCES ON GUN SALES. PHONE 260 367 2633 CELL 260 243 0700
...Click for more info
Seller: Jerry
Area Code: 260
$1,995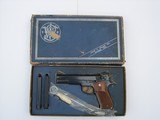 ----PRICE REDUCED----FOR SALE IS A S&W MOD. 52 NO DASH # 53808, IT COMES WITH A BOX, 2 MAGS, BARREL WRENCH, AND CLEANING KIT. THE GUN IS IN 98 1/2- 99% CONDITION THOU THE BOX IS IN POOR
...Click for more info
Seller: David Nowak
Area Code: 814
$1300.00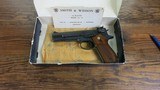 S&W MODEL 52 WITH ORIGINAL BOX. GUN IS IN VERY GOOD CONDITION. USED BUT WELL TAKE CARE OF. BOX IS IN GOOD CONDITION ALSO & MATCHES GUN. CALL OR E-MAIL WITH QUESTIONS;
...Click for more info
Seller: Rogers Firearms
Area Code: 229
$1450.00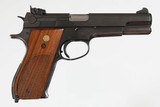 MAKE - SMITH & WESSON MODEL - 52-1 FINISH - BLUED BARREL - 5" CALIBER - 38SPL ( WAD CUTTER ) GRIPS - WOOD CONDITION - EXCELLENT NO BOX STORE HOURS 10AM - 6 PM MON -
...Click for more info
Seller: Classic Firearms
Area Code: 478
$1495.99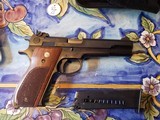 Origional owner no dash. Purchased new 61 or 62, memory is a little faded. Maybe shot a box of bullets through it when first purchased at Clifton Rod and Gun Clifton, NJ. Both factory clips have
...Click for more info
Seller: Hunter59
Area Code: 757
$1,750.00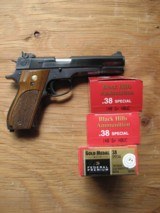 Smith and Wesson Model 52-2 with ammo. This pistol is in 38 special-*Wadcutter. The pistol is in 99% condition and comes with the ammo pictured. Shipping insured $59.00 Firm. Email contact only.
...Click for more info
Seller: Stockjocky
Area Code: 719
$1,475.00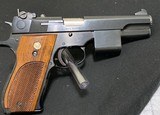 Smith and Wesson model 52-2 .38 midrange wadcutter bullseye pistol with barrel weight set. The pistol is in excellent condition and comes with a bushing wrench and box. This pistol i
...Click for more info
Seller: JRDavis
Area Code: 520
$1,900.00