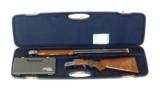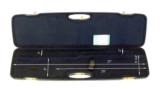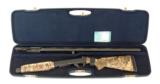 Negrini One Gun TRANSFORMER 1607LR-TRANS – Blue/Blue | Barrel 36? max
Guns International #: 100519618 Seller's Inventory #: 5
Category: Gun Cases - European - Gun Safes

Seller's Information
When emailing or calling sellers direct, please mention that you saw their listing on GunsInternational.com



Seller: negrinicases
Company: INTELCASE Co. - Negrini Cases
Member Since: 12/29/14
State: Arkansas
Zip: 72901
Country: United States
Phone: (833) 634-7464
Number of Active Listings: 0
Total Number of Listings: 10
Seller: Private Seller
Return Policy: 3 day inspection and return policy on used guns.

Payment Types Accepted: Visa, MC, AMEX, PayPal



Description:
One Gun Transformer/Convertible Single Luxury Gun Luggage Case

Model: 1607LR-TRANS/5042
Finish: LR- Luxury Rubber Trim
Color: Blue/Blue

There is nothing like the Negrini 1607 TRANSFORMER Single Shotgun Case. Travel to your next hunting/shooting destination with your SXS, O/U, Semi-auto or Pump shotgun. The single shotgun case easily converts and adapts for any type of shotgun. Just Remove the accessory box to convert the case from an O/U to a Autoloader shotgun case.

The single shotgun TRANSFORMER's ultra-strong double-wall construction consists of a thick thermoformed ABS outer case welded to a rigid inner ABS case with a fully cushioned plush velvet materials. The patented double wall construction assures maximum shock absorption without losing the integrity of the cases construction. With hardened steel locks and hinges that are recessed to prevent damage from airport conveyor belts. Featuring separate compartments for stock and receiver, barrel and forend as well as removable accessories box. All materials used are certified to not gas out or corrode firearms. Includes a Limited lifetime warranty.
Ultra light weight, Ultra strong thermoformed double wall ABS
IATA certified for all air travel use
Hardened steel combination Locks for security
Limited Lifetime Warranty
100% Made in Italy - negrinicases - The official distributor of Negrini hard gun cases

SOLD