Benchrest and Target Revolvers - Rimfire
Benchrest and Target Revolvers - Rimfire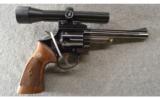 This is a hard to find Smith & Wesson model 53 in .22 Jet, the revolver comes with 4 inserts to fire .22 mag rounds. The blue is bright and in excellent condition with a very faint turn line and a
...Click for more info
Seller: Cabelas Owatonna
Area Code: 507
Was 1499.99 Now $1,299.97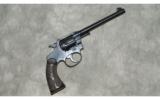 The Police Positive dominated the Law Enforcement market for many years. This is the Target Model featuring adjustable sights, rubber grips and 6-inch bbl.
...Click for more info
Seller: Cabelas Rogers
Area Code: 763
$659.99

Seller: Puglisi Gun Emporium
Area Code: 218
$1,995.00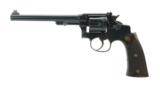 Smith & Wesson Hand Ejector .22 LR caliber revolver. Early 022/32 Target model shipped in 1916. Excellent overall condition and factory letter.
...Click for more info
Seller: Collectors Firearms
Area Code: 713
1,950.00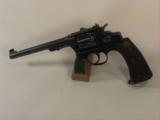 S&W 22/32 HEAVY FRAME TARGET (BEKEART) 22 LR 6", 80% BLUE WITH A FEWSCATTERED EXTERNAL PITTS, GOOD GRIPSWITH AN ADDED LANYARD LOOOP, THIS IS HELD WITH THE LOWER GRIP SCREW AND DOES NOT TOUCH
...Click for more info
Seller: WILDWOOD INC
Area Code: 207
$795.00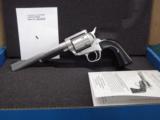 Freedom Arms model 97 Premier .22LR. with Custom length 6 1/2" barrel ,Match cylinder, Black micarta grips and factory action job with 3 lb trigger. 100% new with full factory warranty. shi
...Click for more info
Seller: smjsports
Area Code: 260
$2,550.00

80% blue, very good bore, very good grips, 10'' barrel , Manufactured circa 1930s. Very rare 10 inch round barrel solid frame double action revolver. Original blue finish and oversize checkere
...Click for more info
Seller: Simpson Ltd
Area Code: 309
$695.00
Just in a some what dificult to find Little Smith & Wesson Model 317-3 AirLite .22 Caliber Target Kit Gun. 8-Shot .22LR. Caliber. J-Frame D/A revolver with Uncle Mikes Combat Stocks. Target
...Click for more info
Seller: R&G LLC
Area Code: 860
$699.00