Handguns - French Revolvers
Handguns - French Revolvers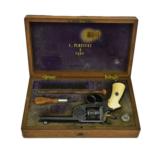 Very Rare French Levaux Revolver by E. Pertuiset. Very interesting gun! Gun is very fine condition with 90% of the original blue. Gun is highly engraved and has gold inlays on the cylinder. The right
...Click for more info
Seller: Collectors Firearms
Area Code: 713
4,750.00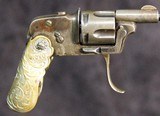 6.35mm, NVSN, 1 1/4 inch barrel, blue and silvered brass finish, folding grip, folding trigger, take down lever to facilitate loading. Condition: very good bore, plum blue overall, 60% silver on fo
...Click for more info
Seller: Pete Erickson
Area Code: 701
$1450.00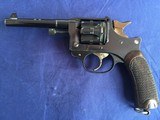 French Model 1892 Lebel Revolver in excellent condition. Made in 1899, original finish, not import marked, good bore, functions fine. I'm not a dealer. I'm a collector and I'm currently thinning out
...Click for more info
Seller: yglk
Area Code: 847
$875.00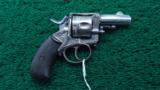 5 shot 2-1/2 inch round barrel chambered in the large .450 CF caliber. There is a pretty big hole in the end of that barrel! Bright and shiny with deep rifling. Revolver retains most of the original n
...Click for more info
Seller: LeRoy Merz Antique Guns
Area Code: 218
$ 875. Sale Pending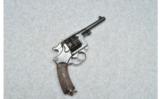 The 1892 was also referred to as a "Lebel". Even though it is not certain that Nicolas Lebel had anything to do with the design.
...Click for more info
Seller: Cabelas League City
Area Code: 346
$649.99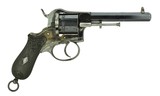 French Pinfire Revolver. Unmarked gun and unproofed, so we are attributing it to a French manufacture. 70% of the original finish remaining. Grips are excellent. Very fine original gun!
...Click for more info
Seller: Collectors Firearms
Area Code: 713
1,495.00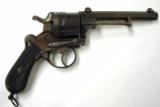 French 12mm Centerfire large frame revolver. Very good plus bore. Gun is double action and works perfectly. Grips are excellent. Gun has English proofs and no other markings except for serial #874. Gu
...Click for more info
Seller: Collectors Firearms
Area Code: 713
1,495.00
Rare French Levaux Revolver. Deluxe large frame revolver sold in England. Barrel is marked T.P. Wood, 35 Nicholas St, Bristol. Metal has turned a gray patina, with original Gold Line inlay. Grips are
...Click for more info
Seller: Collectors Firearms
Area Code: 713
2,250.00
Scarce Perrin Revolver model in 1859. Very interesting French gun decorated with etched metal. Double action that has a safety bar allowing for the gun to safely be carried. Gun is completely function
...Click for more info
Seller: Collectors Firearms
Area Code: 713
2,750.00
Devisme Model 1854 Percussion Revolver. Approximately .35 caliber six shot. Devisme was very innovative with regard to gun design, decoration and was awarded silver medals in 1839, 1841, 1855, 1862, a
...Click for more info
Seller: Collectors Firearms
Area Code: 713
4,650.00
PRICED REDUCED - Offered for sale is a Lebel M.1892 revolver. This is a hard-to-find commercial example with a 1915 dated barrel – none of the military guns are dated 1915. It presents wel
...Click for more info
Seller: shelly
Area Code: 304
$700.00
French Pinfire 9mm caliber revolver. Very fine revolver with about 90% fine original high polish blue. Gorgeous grips. This is a quality French Pinfire. Unmarked as to maker. Barrel length 5"". Overal
...Click for more info
Seller: Collectors Firearms
Area Code: 713
1,175.00