Sorry! You're too late.
The EARLY NAVY ARMS 1858 REPLICA WITH LEFT HAND HOLSTER GI# 100887517 has been sold.
Click
here
to see what else is available by RUDIM6.
View other listings in this category....
Navy Arms Revolvers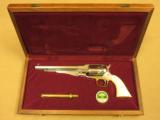 Just received this Cased Navy Arms 1858 Remington replica .44 Caliber percussion revolver, manufactured by FAB. ARMI FLLI Pietta. It is fitted with a 7 7/8 inch barrel, is nickel plated, and fit
...Click for more info
Seller: Antique & Modern Firearms, Inc.
Area Code: 859
$695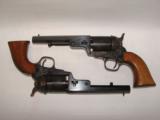 A Consecutive pair of Armi San Marcos/Navy Arms 1851 Conversion pistols in 38 Special with 5.5" octagon barrels,wood stocks,blue/case color finish. Both guns are in excellent condition and come w
...Click for more info
Seller: Legendary Guns
Area Code: 602
$700.00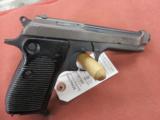 Seller: Schultheis Sporting Goods
Area Code: 607
$225.00 + $20.00 S&H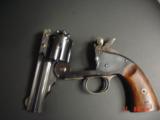 Here is a very cool 1875 Schofield from Navy Arms/Uberti, made in Italy with a 3 1/2" barrel, top break open action thats easy to load & has an automatic ejector, 6 shots, 45 LC, single actio
...Click for more info
Seller: Bob Simpson FFL Dealer
Area Code: 727
$1,195.00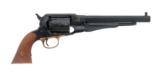 ***WE BUY & CONSIGN FIREARMS*** Navy Arms - Single Action Army - .44 - Item Number: NAV049276 Barrel length: 8 Finish: Blue Lop: NA Lbs: |/22| Ozs: 8
...Click for more info
Seller: Griffin & Howe
Area Code: 973
$200.00