Pairs of Revolvers - Antique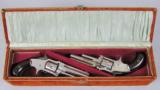 This is a cased pair of Marlin XXX Round Ribbed Barrel Short-Fluted cylinder, 5 shot 30 rimfire caliber. One retains 90% original nickel finish and the other 80% frame nickel and 65% barrel nickel. Th
...Click for more info
Seller: 1898ANDB-4
Area Code: 707
$2,495.00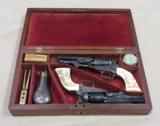 Manufactured in 1855, this attractive pair of Colt Model 1849 Pockets were most likely engraved by Gustave Young (or in his shop). The serial numbers 109074 and 108867 are only 207 numbers apart
...Click for more info
Seller: Antique & Modern Firearms, Inc.
Area Code: 859
$52,500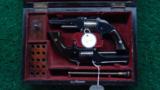 These guns are in absolutely outstanding condition. Beautifully fitting Rosewood grips in excellent condition. One gun has 30-40% blue on the cylinder and is flaked and left the cylinder looking a blu
...Click for more info
Seller: LeRoy Merz Antique Guns
Area Code: 218
$ 6,500.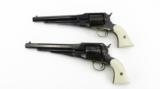 Pair of Remington 1858 Army .44 caliber revolvers. One has early barrel address replacement. Serial number 57 is under grip and serial number 90986 is under grip and on barrel. A truly nice pair.
...Click for more info
Seller: Collectors Firearms
Area Code: 713
10,500.00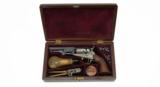 Colt Cased 1849 Pocket Model .31 caliber revolver. Very good plus condition with 95% blue on barrel. Cylinder has 100% cylinder scene. Grips have 95% original varnish. Comes with eagle flask in very g
...Click for more info
Seller: Collectors Firearms
Area Code: 713
4,500.00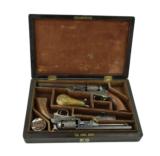 Very Fine Double Cased Set of Colt 1849 Pocket Revolvers. Made in 1852. Consecutive serial numbers. One of the guns is in much better condition than the other. Case is original. Very hard to find a do
...Click for more info
Seller: Collectors Firearms
Area Code: 713
8,950.00