Featured Gun Classifieds Reid Knuckle Dusters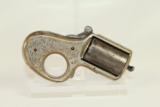 REID My Friend KNUCKLE DUSTER .32 Antique Revolver 1800s Catskill NY BRASS KNUCKLE PISTOL Combination Here we present an antique James Reid Manufactory "My Friend" Knuckler Revolvi
...Click for more info
Seller: AncestryGunsLLC
Area Code: 314
$3,250.00
Reid Knuckle Dusters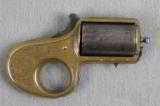 This is a very crisp Reid Knuckle Duster 32 caliber rimfire revolver with matching serial numbers on the frame, cylinder and the arbor pin. The serial number 8060 and was probably made in 1870 or 1871
...Click for more info
Seller: 1898ANDB-4
Area Code: 707
$2,795.00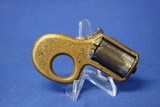 Albert Peterson Guns is currently seeking consignments. No collection too small or big! No firearm too expensive or too cheap! We consign all of them! Ask about our consignment
...Click for more info
Seller: AlbertPetersonGuns
Area Code: 513
$1700 + Shipping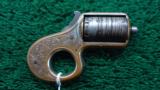 This has the marking "My Friend". These are the unique 7-shot palm pistol style. Brass frame. Engraving and nickel plated finish. About 60% worn away leaving a pleasing antique look. Cylinde
...Click for more info
Seller: LeRoy Merz Antique Guns
Area Code: 218
$ 1,495.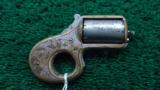 This is a brass frame with silver plating. About half of the silver remaining. The cylinder also was silver or nickel plated and has some flaking. About half of the cylinder has lost all of it's platt
...Click for more info
Seller: LeRoy Merz Antique Guns
Area Code: 218
$ 1,575.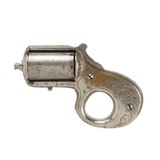 Reid's "My Friend" Knuckle Duster Revolver Inscribed Seven-Shot Reid's My Friend Knuckle Duster Revolver. .22 caliber, 1.5" cylinder/barrel. S/N 3800. Early markings and safety nicke
...Click for more info
Seller: Cisco's Gallery
Area Code: 208
$3,500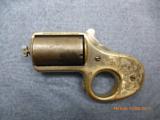 Reid Knuckle-Duster Revolver (15-54) Reid Knuckle-Duster Revolver. Five shot 32 rimfire caliber revolver; left side of frame marked MY FRIEND PATD. DEC. 26, 1865 over cylinder,
...Click for more info
Seller: Harley Wood
Area Code: 305
2,300.00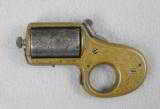 This is a James Reid 32 caliber rimfire Knuckle-Duster. Just over 3000 were made in 32. It has the sliding safety on the bottom that locks the cylinder between chambers. The serial number is 9175 and
...Click for more info
Seller: 1898ANDB-4
Area Code: 707
$2,095.00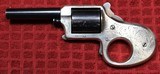 Got an Engraved James Reid (My Friend) knuckle duster 32 caliber rim fire with 3" barrel, serial #11883. One of only 250 for sale. In the pictures we tried to get as close as poss
...Click for more info
Seller: P&T PARTNERS
Area Code: 972
$3800.00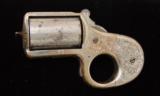 Reid ""My Friend"" Knuckle-Duster .32 caliber revolver. Very fine condition with much of the original nickel on frame and cylinder. Action works perfectly and locks up tight. Engraving on frame is ver
...Click for more info
Seller: Collectors Firearms
Area Code: 713
2,895.00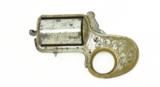 Extremely Rare Reid .41 caliber Knuckle Duster. Made in the early 1870's. Only 150 or so made. Very good condition with approximately 45% of the original nickel plating. Gun is factory engraved
...Click for more info
Seller: Collectors Firearms
Area Code: 713
23,950.00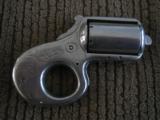 For sale are a pair of Knuckle-Dusters, one (#4566) is original and not in working order, the hand spring is broken etc and the other (#16512) is in working orde
...Click for more info
Seller: Michael Lee
Area Code: 727
$3,450.00