Sorry! You're too late.
The Cimarron Model 1873 "Doc Holliday" GI# 101068532 has been sold.
Click
here
to see what else is available by Hanover Shooters Supply, LLC.
View other listings in this category....
Cimarron Arms Revolvers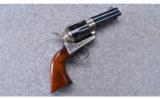 Shows only light use with an excellent bore and chambers. Made for Uberti for Cimarron Firearms. No box.
...Click for more info
Seller: Cabelas Wheeling
Area Code: 304
$449.99
Up for sale today is a Cimarron Uberti Model 1873 Indian Cavalry Scout serial no. P51713 chambered in caliber .45 Colt. This New-In-Box revolver is a reproduction of nickeled revolvers produced for Na
...Click for more info
Seller: Hanover Shooters Supply, LLC
Area Code: 717
$689.00 plus $25.00 shipping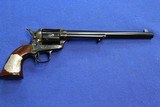 Up for sale today is a Cimarron Uberti 1873 Buntline Special serial no. P51792 chambered in caliber .45 Colt. This New-In-Box revolver is a faithful reproduction of the special revolver given to Wyatt
...Click for more info
Seller: Hanover Shooters Supply, LLC
Area Code: 717
$795.00 plus $25.00 shipping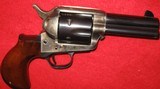 THIS THUNDERER BIRDSHEAD GRIP REVOLVER IS CHAMBERED FOR 45 COLT. IT WAS MADE FOR CIMARRON BY UBERTI. IT IS SERIAL # P13660. IT IS IN EXCELLENT CONDITION OVERALL WITH AN EXCELLENT BORE. THE ACTION IS T
...Click for more info
Seller: RUDIM6
Area Code: 401
$369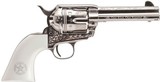 CIMARRON TEXAS RANGERS .45LC PW FS 4.75" ENGRAVED NICKEL Engraved Nickel Finish Barrel and Pre-War Frame, Poly Ivory Grip Cimarron Texas Ranger Engraved Frontier .45 Long Colt
...Click for more info
Seller: United Sportsmen's Company
Area Code: 815
$699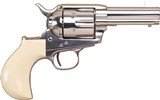 CIMARRON DOC HOLLIDAY THUNDERER REVOLVER .45LC FS 3.5" S/S TRU-IVO Stainless Steel Pre-War Frame, Poly Ivory Grips, "Doc Holliday" Engraved on back strap CIMARRON DOC HOLLIDAY TH
...Click for more info
Seller: United Sportsmen's Company
Area Code: 815
$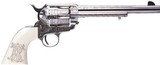 CIMARRON TEDDY ROOSEVELT VER.2 .45LC FS 7.5" ENG. POLY IVORY Nickel with Engraved Frontier Version 2, Monogramed Poly Grip CIMARRON TEDDY ROOSEVELT ENGRAVED FRONTIER VERSION 2
...Click for more info
Seller: United Sportsmen's Company
Area Code: 815
$699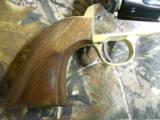 FACTORY NEW IN BOX CLICK ON PICTURES TO ENLARGE Details Caliber: .45 LC Barrel Length: 4.75" Style: Model P Frame: Case Hardened Pre-War Finish: Standard Blue Grip: 1-Piece Walnut Addition
...Click for more info
Seller: AA GUNS & AMMO
Area Code: 770
$ 399.99-NEW IN BOX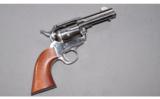 Seller: Cabelas Chesterfield
Area Code: 586
Was $879.99 Now $835.88