Sorry! You're too late.
The 1860s .44 Caliber FRANK WESSON Two-Trigger CARBINE GI# 101044131 has been sold.
Click
here
to see what else is available by AncestryGunsLLC.
View other listings in this category....
Frank Wesson
Civil War B. KITTREDGE Marked Frank Wesson CARBINE Used by the Kentucky, Indiana, Missouri & Kansas State Militias Here we present a Rare "B. KITTREDGE & CO./CINCINNATI O."
...Click for more info
Seller: AncestryGunsLLC
Area Code: 314
$1,950.00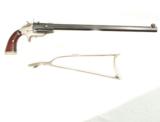 .32 rimfire, 15" full octagon barrel with globe front sight and wheel adjustable elevation rear. Nickel finished frame with side swing action. Spur trigger, rosewood grips and detacha
...Click for more info
Seller: Caledonia
Area Code: 717
$4,950.00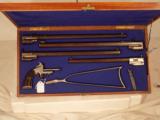 #1015A FRANK WESSON CASED SET, 4 sets of barrels; 16" 25 cal. smooth bore, 16" 22 cal. with exc. bore, 15" 25 cal. with VG bore, 12" in unknown cal., all barrels have sigh
...Click for more info
Seller: Jim Goergen
Area Code: 507
$8,500.00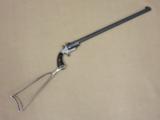 Very nice all numbers matching Frank Wesson Single Shot "Pocket Rifle" chambered in .32 Rim Fire. The gun is fitted with a side swing out 18 inch full octagon barrel with manual ejecto
...Click for more info
Seller: Antique & Modern Firearms, Inc.
Area Code: 859
$1,750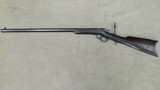 This is a Frank Wesson Two-Trigger Sporting Rifle in .38 Caliber. This rifle has two firing pins and fires both Rim Fire and Center Fire cartriges. It has a 26 inch octagonal barrel that h
...Click for more info
Seller: OnMark USA
Area Code: 336
$1,375.00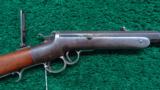 These are very solid and unique single shot breach loading rifle, the front trigger being your action opener. Another innovative idea is the hammer can be set for either rim or center fire cartridges.
...Click for more info
Seller: LeRoy Merz Antique Guns
Area Code: 218
$ 1,175.
Rare Frank Wesson, Rifle Chambered in .32 Rimfire, In good condition. 26" Barrel. Serial# 6390
...Click for more info
Seller: bobsvintageguns
Area Code: 989
$895.00