Sorry! You're too late.
The Fully Functioning 28 Shot 1870's Evans Lever Action Repeating 44 cal Rimfire Carbine GI# 100969533 has been sold.
Click
here
to see what else is available by argo63.
View other listings in this category....
Evans Antique Rifles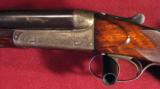 William Evans [From Purdey's] 63 Pall Mall, St. James, London boxlock ejector double rifle chambered for the .400/
...Click for more info
Seller: Dismal River Armory
Area Code: 308
$15,900

Drillings, Double Rifles, and Rifles - Lots of case color left on this Evans. Note the exceptional wood and the elegant horn forend tip. A little pitting forward of the chamber but then cleans up to
...Click for more info
Seller: Vintage Doubles
Area Code: 509
$2,100.00

Has not been refinished. In good operating condition. This is the last one made of the "Old" sporting rifles. #300.
...Click for more info
Seller: MoGuns
Area Code: 816
$2,850.00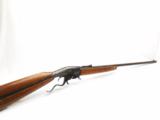 This is a New Model Evans Repeating Rifle chambered for .44 Evans Long. The 30" round barrel has developed a patina but still has some blueing. There are a few scattered dings but no pittin
...Click for more info
Seller: The Gun Works
Area Code: 541
$1,295.00